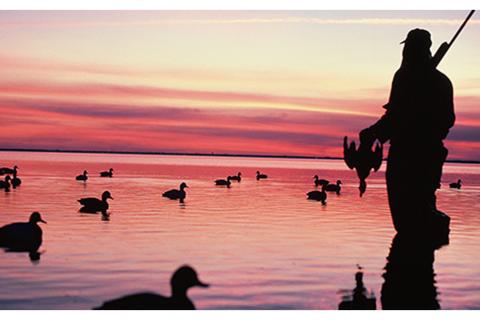 Don't Miss The Excellent Waterfowl Hunting Opportunities Florida Has To Offer
Biologists say up to 25 percent of the Atlantic Flyway duck population winters in Florida: somewhere between 2 million and 4 million birds.
But unlike many other top waterfowl states, much of Florida's best duck hunting is open to the public.
In fact, I've rarely hunted on private land in Florida, simply because there is such outstanding waterfowling on public property.
Terrific Florida duck shooting is available on federal wildlife refuges, on state-operated areas and on hundreds of large, weedy, marsh-lined lakes, rivers and big coastal areas as well.
Almost every body of water in the state offers at least some opportunities for duck hunting, except, of course, those lakes, rivers and bays in large urban areas such as Orlando, Jacksonville, Tampa and Miami.
Yet even near those huge Florida cities there are outstanding places for waterfowlers to enjoy their sport.
For example, Lake Tohopekaliga and East Lake Tohopekaliga, south of Orlando at the town of Kissimmee, are outstanding duck hunting lakes. And they both offer hunting that's easy to do for gunners working out of small johnboats, and even canoes and kayaks.
Farther east, the upper St. Johns River is stiff with ducks, mostly woodies, teal and ringnecks, and there are plenty of places where waterfowlers can hunt without ever hearing another shot from hunters during a morning.
To the south, Lake Kissimmee and Lake Okeechobee near Miami, have more on-your-own waterfowl hunting opportunities than a shotgunner could
pursue in a lifetime.
While big lakes like Kissimmee, "Toho," Okeechobee, George and Rodman Reservoir, and rivers like the Indian, Banana and St. Johns harbor hundreds of thousands of wintering ducks, often the smaller lakes of the state have the most overlooked opportunities for Florida waterfowlers.
One key factor that makes a Florida spot appealing to birds is hydrilla weeds, and almost wherever it's found ducks abound.
One outstanding area for ducks that also has abundant hydrilla is the upper St. Johns River, beginning at the south end of Lake Monroe (near the town of Sanford). From there through to Lake Hellen Blazes it's a duck paradise.
But hunters should be warned that hunting the Upper St. Johns River marsh is no easy feat. It's a half-water, half-muck labyrinth of creeks, lakes, cuts and brush, infested with insects, alligators and cottonmouth water moccasins.
But it's the winter home to thousands of teal, wood ducks, ring-necks and mottled ducks, with a few gadwalls and wigeon mixed in.
The T.M. Goodwin WMA is a south Brevard County duck haven covering more than 6,000 acres on the Upper St. Johns River. The area is not open daily, and has oth
er hunting restrictions. So gunners are advised to contact the area headquarters well before hunting.
One of the best duck spots in Florida is Merritt Island National Wildlife Refuge, on the east-central coast near the town of Titusville. Duck hunting is allowed on thousands of acres of the 140,000-acre refuge, but the hunting permit process takes a bit of figuring to ensure against violations, so hunters must be sure to check with refuge headquarters before hunting.
Guana River WMA is another good duck area managed by the state and open for public hunting. Located on the Atlantic Coast north of St. Augustine, it's a Ducks Unlimited MARSH project and has responded well to management, harboring plenty of wintering ducks through the open season.
The PotashCorp White Springs WMA in Hamilton County is a duck-infested 4,000-acre public hunting spot, offering good shooting for teal, ring-necks and shovelers.
In Florida's Panhandle, lakes Miccosukee and Iamonia near Tallahassee have long traditions of good public shooting, primarily for ring-necks and teal.
Florida is blessed with hundreds of other lakes, marshes and river swamps that are wide open to public waterfowl shooting.