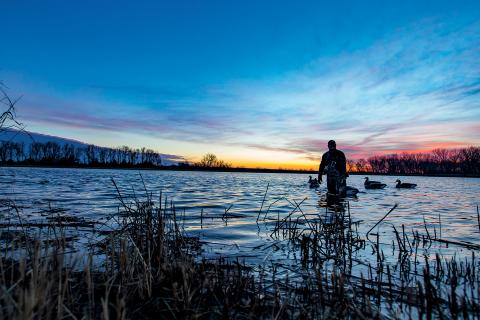 All Waterfowl Waders Are Not Created Equal
Get The Right Pair For Your Style Of Hunting
Aside from a shotgun and nontoxic shot, waders are the most important tool in a waterfowler's arsenal. Decoy setup, retrieving downed birds, crossing sloughs on the way to your honeyhole and hunting in cattails or timber are just a few scenarios in which you'll need a pair of waders.
Waterfowl hunting takes place in a variety of climates and conditions, and matching a pair of waders to your hunting needs is crucial. The key elements to picking out the perfect pair of waders are knowing what type of water you hunt (shallow/deep, flowing/standing), what the ground underneath the water is like (soft/firm, mud/sand), the temperature you typically hunt in (above/below freezing) and what location you hunt from (in the water/on dry ground). The easiest way to narrow your selection down is by the water depth you will be hunting in. Three basic styles are hip, waist-high and chest waders.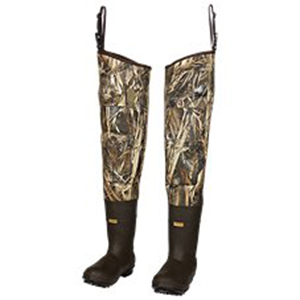 Styles of Waders
Hip Boots/Hip Waders
Hip boots are ideal for situations where the water is less than midthigh deep, and also for mucky, muddy terrain. They are the easiest to put on and take off, as well as the most mobile of the three basic styles. Hip boots typically attach to a waistbelt or belt loop to keep them secure on muddy ground. This wader style is a good choice for shallow ponds, creeks and flooded fields in warm to mild temperatures.
Waist-High Waders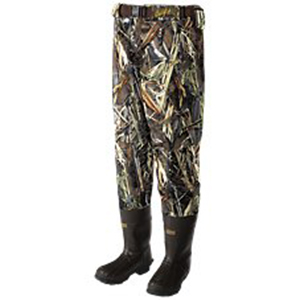 Waist-high waders are almost as lightweight and mobile as hip waders, but allow you to venture into deeper water and trudge through muddier ground. A waistbelt holds them in place, so even the nastiest muck won't pull these waders off. They also provide you with the ability to sit on wet surfaces while remaining dry. Waist-high waders are a great option if you are hunting small rivers and lakes, or if you will be sitting in a wet location.
Chest Waders
Chest waders are by far the most common type of waders. They keep you dry in deep water, and shoulder straps ensure they stay in place. Most come with pockets and clips to secure shell holders, calls and other hunting accessories. Chest waders are not as mobile as hip and waist-high waders, but their added utility and ability to cross deep water makes them the most popular choice. It is important when trying on a pair of chest waders to make sure you can shoulder your gun without snagging, as the straps and buckles may take some getting used to.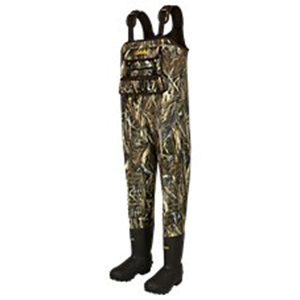 A variety of styles are available, and some have added protection to prevent punctures and tears in rough hunting conditions. Many waders have nylon or other tough materials laminated to the outside, increasing abrasion resistance. While these features are helpful in thick brush and timber, an open-water or field hunter may appreciate the lighter weight of standard waders. Although chest waders are available for all types of climates, many are designed specifically for cold-weather hunting. If you frequently hunt in harsh, winter conditions, a pair of lined wader pants can provide extra warmth. Additionally, many waders have unique features that add function and utility. Examples of these are waterproof electronics pockets, handwarmer pockets, shell holders, waistbelts and front zippers. These options can eliminate the need for many hunting accessories, cutting down on unnecessary bulk and saving money in the long run.
Now that we have covered the standard wader styles, let's look at the materials they are typically made from.
Wader Options & Materials
Neoprene
Neoprene is the most common type of wader material, offering both flexibility and excellent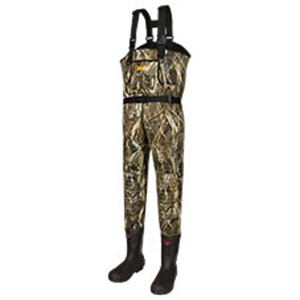 insulative properties. Most waders are constructed of 3mm- or 5mm-thick neoprene, with the 5mm varieties popular for waterfowlers in colder climates and those who stand in water during hunts. Neoprene is a nonbreathable material, so if you're hunting in warm weather - or walking long distances - you may want to go with 3mm waders to reduce perspiration.
Breathable Waders
Having gained popularity among warm-weather anglers, breathable waders have been developed for waterfowlers as well. They are cooler and lighter than neoprene waders, increasing mobility while reducing perspiration. Because of their ability to transfer moisture, breathable waders lack the insulative qualities of their neoprene counterparts. Cold-weather use is possible, but a hunter must wear considerably heavier clothing underneath their waders, adding weight and reducing breathability. These waders are a great option if you hunt in mild weather.
Boot Options
Two common options among all types of waders are bootfoot and stockingfoot. Bootfoot waders have permanently attached boots that are typically made of rubber. These slip-in boots have aggressive outsoles to deliver traction through thick mud and slush. Most come with 400- to 1,600-gram insulation, providing options for hunting in any climate.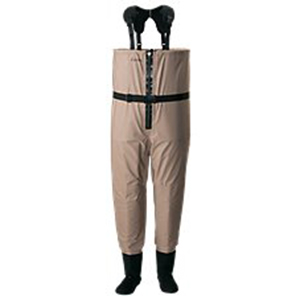 Stockingfoot waders are designed to be worn with removable wader boots, allowing you to match your footwear to the hunting conditions. Stockingfoot waders are typically designed for fishing use, but are generally fine for use on waterfowl hunts. They usually don't offer the insulation properties of bootfoot waders. They offer better ankle support and greater stability than bootfoot waders, although they require more care at the end of the day and can slip off in muddy ground.
Ultimately, when and where you hunt will determine the type of waders you need. Waterfowling takes place in many different locations around the globe, and there are waders available to match any hunting condition.