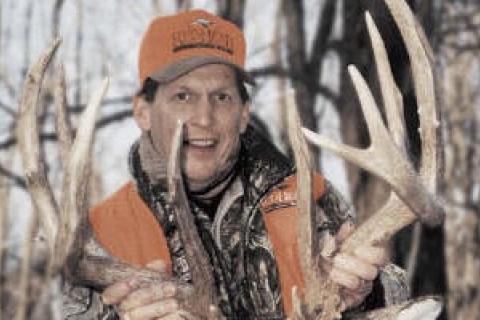 IOWA 12/2/2000
GROSS SCORE 206 1/8, 198 5/8 NT, 174 3/8 T
As a long time professional hunter and captain of the RedHead® Pro Hunting Team, Jerry Martin has had the opportunity to hunt all kinds of big game all over the world. But given a choice, he'd take a hunt with good friends in the heartland of America over any of the others. One major reason for this is that the biggest whitetails on the planet reside in the American Midwest, and hunting these smart, experienced deer is always a challenge.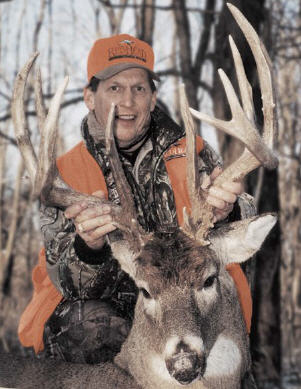 This incredible buck had become a legend over the years prior to Jerry's hunt. It was smart and sensible, and though it had been hunted incessantly, it had avoided every attempt with the ease that experience brings.

Jerry had been invited to hunt the 400 acre farm of Tony Knight, the inventor of the modern muzzleloader, and was lucky enough to be carrying one of the newest models. His guide was Tony's son, Billy, who had hunted the big deer hard during archery season, with no success. Old buck never seemed to follow the same pattern twice, and this made it nearly impossible to hunt.

The day was windy and bitter cold, with snow on the ground. The two hunters focused on a stand of poplars and cottonwoods that flanked a creek running through the property, correctly assuming that the does would be huddled against the elements in cover. Jerry knew that the secondary rut was imminent, and that if you found the does, you'd find the bucks right there with them, waiting for an opportunity to mate the un-bred females. They hunkered down and scanned the landscape, and soon spotted a group of deer in the timber. It was then that Billy locked his eyes on the buck they were looking for.

At 150 yards, Jerry knew the Knight muzzleloader would hit its mark, but he needed a better shooting lane, so he carefully stalked forward until an opening presented itself. He took careful aim, and fired—he felt good about the shot, but the cloud of white smoke obscured his view. The rest of the deer had scattered in all directions.

As he and Billy approached the site, they could clearly see the buck's big belly protruding from the snow. The elusive, enormous buck had finally fallen to a master hunter.

This insanely large deer has the qualities of a typical and a non-typical buck—the Boone and Crockett gross score, which includes all normal and abnormal points with no deductions, is an impressive 206-1/8. It's official B&C score as a non-typical is 198-5/8, and as a typical, 174-3/8.
Jerry Martin is a member of the
RedHead Pro Hunting Team