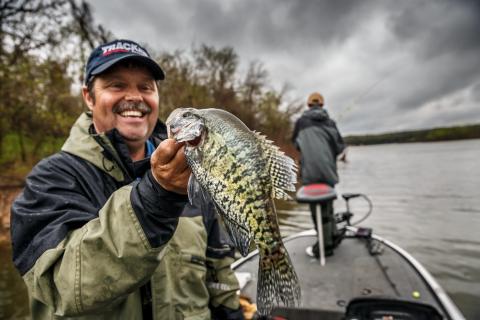 Don't wait until spring to go crappie fishing. Great fishing is out there right now!


In winter, the structure with the most potential will be relatively deep, depending on the location of the thermocline and the mean depth of the lake. Here's are a few ways you can find that fishing honey hole.


Look for prime structure on the main lake adjacent to a channel or major dropoff.


Focus your search on points, ridges, humps, and flats with tight contour lines.


Use small jigs on the lightest fishing line possible and work them slow. At the slightest little tick or movement of the line, set the hook.

Once you locate the structure and identify the edge, you will need to find key crappie holding cover. Hot spots can be stumps, rock piles or brush piles. The bigger slabs will be on isolated pieces of cover.


Finding winter crappie takes a little work, but once you hook into them you'll quickly forget about the winter chill.



Watch Video Tips: Fill the Freezer with Winter Crappie

Read: Ice Fishing for Panfish

Read: Triggering Hardwater Crappie

By Larry Whiteley, Host of the award winning
Outdoor World Radio