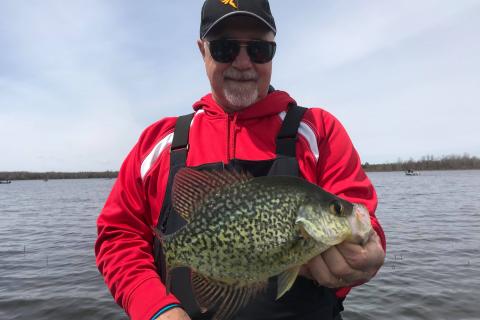 As the Spring progresses through unseasonably cold weather this year the crappie in the North have begun the transition to spawn and reversed back out to deeper water a couple times. Two main factors determine the spawn including sun angle (time of year) and water temperature. Usually those two factors are indistinguishable as the water warms as sun angle rises from the Winter Southern axis, allowing for better light penetration and absorption as heat energy. The temps that drive the fish shallow are mid 50's, with the spawn usually beginning when temps hit 58 or so.
Tip: Shop crappie fishing gear at Basspro.com
The males move in first and begin clearing a small circle on the bottom. Within a couple days, the females move in, pair up with the males, and begin the spawning process. Once the females drop their spawn, they exit, leaving the males to babysit the nest for a few days. This activity concentrates the crappie into a small area, and it is very easy to catch a limit in short order.
Before getting into detail about the where and how, I feel it is important for most waters to limit your catch instead of concentrating on catching your limit!
Finding Spawning Areas
Crappie spawn in the clearest water available in anywhere from 6" to a couple feet in depth. The preferred substrate is marl to sand, allowing for the perfect nest conditions. Some cover provided by reeds and certain other emergent vegetation is the rule in most Upper Midwestern waters, so I concentrate my search on those areas first. A small patch 20 feet across can hold a hundred nests, so it does not always have to be a large area, and in fact some of the best fishing will be in smaller, harder to find locations that other anglers have not identified.
Shoreline related wood and brush can also be spawning magnets if open enough to allow nest building. If no cover at all is available, look for telltale light-colored circles in shallow bay back shorelines and around points. Humminbird Side Imaging or 360 Imaging can help find those nests fast, the scan looks like multiple 'dishes' in the shallows in a concentrated area. Larger, more separated discs returning in the scan are probably from bass preparing to spawn but do call for investigation.
Catching Spawning Crappie
Once one finds them, it becomes apparent crappie will literally hit almost anything when spawning. I like to use 1/32nd ounce jig like the Northland Fishing Tackle Sink'n Jigheads for a slow, controlled fall tipped with Berkley GULP ALIVE 1" minnow or a 2'' Muddy Water Bait. Live bait certainly will work but takes a stop at the bait store, a minnow bucket and net, and constant replacement of the minnow. One can literally catch a dozen on one 1" GULP minnow. Don't use a heavier jig unless the fish are spawning in deeper water, as many of the hits occur when the jig and tail is slowly sinking. I use a 7' Vexan Crappie rod for this purpose in medium light action. The softer tip allows for careful placement of the cast, especially important when fishing reed pockets.
Spool your 10 to 20 size spinning reel with 6-pound test monofilament fishing line like the Berkley Trilene XL Smooth Casting Line or 10 pound test super line. A bobber or foam float just big enough to float the jig should be added with just enough line below to keep the jig 6" off the bottom.  A large bobber is harder to place and the splash when it hits the water may spook larger crappie. Drop your Minn Kota Talon or hit Spot Lock a quarter casting distance away from the area you want to fish and slowly work across it fan casting. If you do not get a hit within a few seconds of the jig settling, move the bobber about a foot, and repeat until you get a crappie to hit.
The spawn will last for approximately a week to ten days, and males may still be around the nest in smaller numbers for a few days longer. We are just entering the peak time to catch shallow water crappie in the North, so get out on the water, find the crappie, and enjoy one off the best fish dinners you will ever experience!