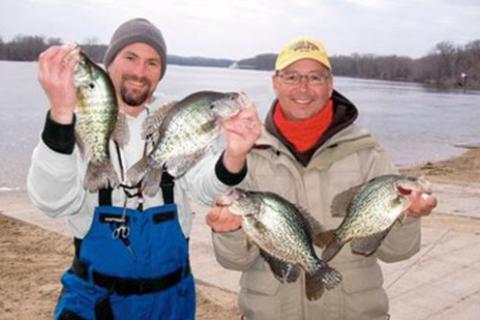 March usually has several days of warming weather, and it is the time when crappie start moving from their deepwater homes to shallow spawning areas. Be mindful that not all crappie spawn at the same time, but most will spawn during a few days of ideal conditions and the rest will spawn early or some later. Also consider regions, the start of crappie spawing can begin in early March in the Southern United States and moving North as late as June in Southern Canada.


Here's three slab fishing tatics sure to put any angler on the schools for March Crappie:
1. Most anglers search open water trying to find them, but if you're familiar with the lake, just head to the traditional crappie bedding areas you know they use every year. They are likely to be in open water nearby and ready to eat.


2. If you're going to be fishing water you're not familiar with, just check with the local outdoor store or bait shop. They can often provide tips for key areas where crappies spawn. Also, try local fisheries biologists since they are familiar with what crappie do through their research studies.


3. Once you find spawning sites, start by fishing nearby deeper water and working closer to the spawning area until you find them. Doing so will eliminate a lot of non-productive water and give you more time catching and less time searching.



  Read: How to Catch Crappie


  Read: Three Cs of Spring Crappie


  Read: Rookies Guide to Spider-Rigging Crappie

Watch this video about Pitching 1/8 ounce Jigs for Crappies


By Larry Whiteley, Host of the award winning
Outdoor World Radio