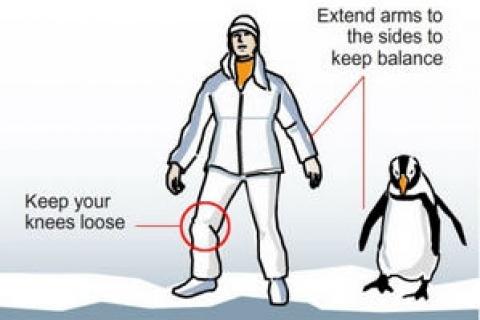 While it's crucial for ice fishermen to be well acquainted with ice safety, as they're spending significant time out on frozen bodies of water, it's arguably just as important for others enjoying the outdoors in winter to be aware of ways to safely navigate ice on solid ground. After all, spills on the ice can lead to injuries like sprains or breaks, which means you'll be spending more time on the couch this season and less time outside.
To hunters, hikers and others venturing into the great outdoors this season, follow the tips below to avoid injuring yourself on the snow and/or ice:

Better Safe Than Sorry. Proceed with caution, assuming all dark and/or wet areas on a path may be icy. Walk slowly, giving yourself a reaction-time buffer in the case that you start to lose your balance.

Get Traction. Wear appropriate shoes/boots in snowy and icy conditions – preferably those with non-slip soles. Even better: Attach such devices as Yaktrax® Pro Traction Devices for Boots and Shoes or Yaktrax® XTR Extreme Outdoor Traction to your boots before attempting to navigate snowy or icy surfaces.

Keep Hands Free. Rather than walking with your hands in your pockets, keep them out and at the ready to help you balance yourself in the case that you start to fall.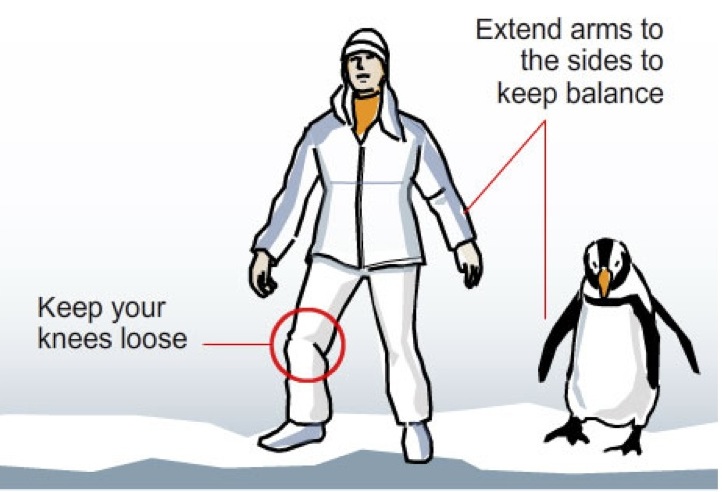 Walk Like a Penguin. It sounds silly, but doing the penguin shuffle can help to save you from a slip. Slightly angling and widening your stance can improve balance by increasing your center of gravity. Bend slightly, walk flat-footed and extend your arms angled down at your sides for balance. For stability, take short steps or shuffle. See figure, via The Guardian, to the right:

(Tips compiled from bss.fnal.gov, belvoir.army.mil, placer.ca.gov and Washington, D.C., CBS affiliate WTOP.)
Stay safe out there this winter!