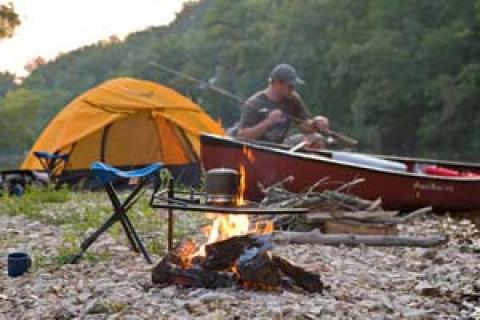 Camping on the bank of a river or stream is an activity many river rats enjoy during the warm summer months. Almost all will agree that there is no better way to enjoy a river than to spend a night or two under the stars, listening to the sounds of night and gurgle of water as it flows past camp.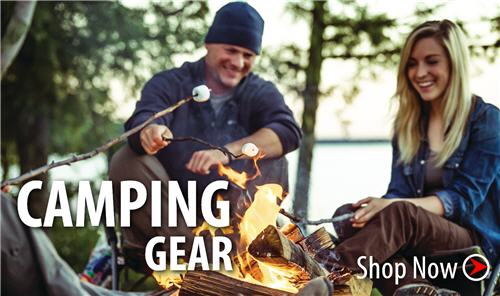 However, opinions are as varied as the campers themselves concerning how to camp on a river. It's not unusual to see camps consisting of large multi-room tents, fancy camp tables and camp chairs, radios, fans and a host of other gadgets.


Then there are minimalists — the bare bones, do-it-yourself, back to nature, river campers who pack as lightly as possible. Food, shelter and water are kept to bare survival levels for these folks. Most river campers, however, fall somewhere between these two extremes.


No matter what type of shelter you choose, make sure you set it up far enough from the river's edge to allow for rising water. And pay attention to the forecast before shoving off on your river adventure.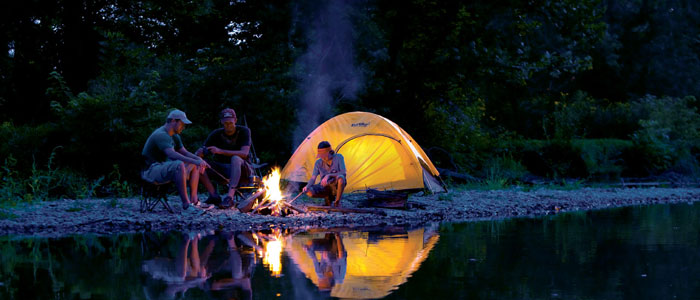 Camping Tents
A far majority of riverside camps involve tents. They may range from expensive cabin tents to mere pup tents. The point is that most people still like a wall between them and whatever is in the dark on the outside.


The "must have tent" crowd often leave the tent flaps up and the door open with screens keeping most of the bugs at bay. However, this style of camping makes for hot nights. Breezes can't flow through small screened windows like they can with more open-air setups.


Screened Camp Canopies
Screened canopies allow for less buggy meal times and work especially well for those wanting to sleep in a less restricting environment than inside tent walls. One can certainly catch the night breezes and enjoy the sounds a great deal more in a screened-in canopy.


Tarps
Tarps are extremely functional as river camp cover. Size of the tarp needed depends on the number of campers sleeping over. An 8-by-10-foot tarp works well for two people. A 5-by-7 is perfect for lone campers. I have utilized tarps as long as 30 feet for up to eight people. I tie the bank side of the tarp to overhanging tree limbs and carry tent poles and guide ropes for the fronts and side of the tarp.


Tarps allow for full air flow during the night and also keep dew and rain off of campers. Heavy rains and wind can wreak havoc on a tarp unless it is securely tied down. Tarps also allow for a place to cook out of the weather and make for a shady place to take an afternoon nap. Too, the cover is a good place to store items that need to be out of the weather.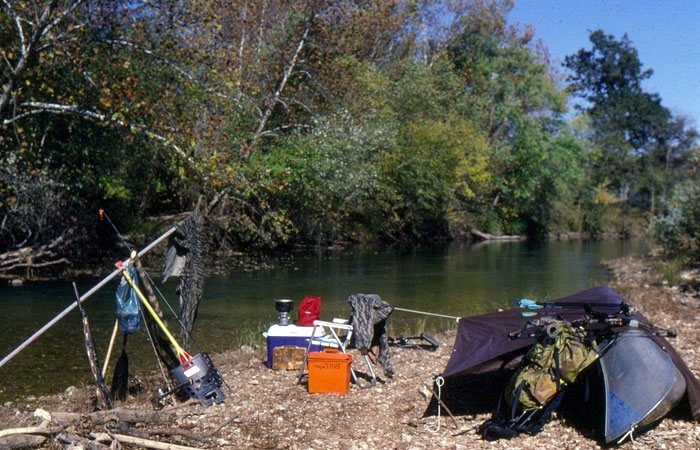 Using a canoe and tarp for shelter reduces the amount of gear needed to camp on a river bank.
Canoes (Yes, Canoes!)
Canoes also make excellent makeshift shelters. When traveling alone, I often use my canoe as my shelter for the night. With the addition of a small tarp, a canoe becomes an ample shelter for two. I simply flip the canoe over on its side and brace it up with a couple of sticks and drape the tarp over the top. I anchor the coverings with rocks on top and at the bottom once I have pulled them taunt.  


Utilizing a canoe for shelter greatly reduces the amount of gear needed to camp on a river bank.  It certainly makes more room in the boat for more important items like fishing equipment. (One must assess their priorities.) I always figure I will spend more time fishing than sleeping, anyway.  


When using a canoe as a shelter, I'm always amazed at the comments I receive from folks as they float by my campsite. Most can't believe that I would camp in such a fashion.


Sleeping Without a Shelter

Only rarely do I see river campers literally sleeping under the stars without any shelter from the elements. Sleeping on the gravel with nothing but a sleeping bag is truly the best way to see the stars, but it isn't for most folks. I've enjoyed the experience several times, but prefer to have a small tarp or sheet of plastic to cover my sleeping bag to keep the dew from soaking my bag.  


Regardless of your river camping style, the important thing is that you are outdoors enjoying the wild things rivers have to offer. However, if you find yourself burdened with too much gear, try a different style of camping the next time you decide to float down a river and spend the night.