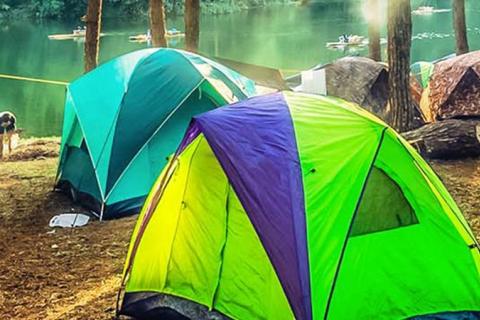 Planning a camping trip for a family of 3-4 is one thing. Planning a group trip for a family reunion, a club gathering, or a church retreat is another thing entirely. Doing it right takes focus, checklists, organization, and TIME!
Oh, and if your camping trip is for Labor Day, get started now! Good luck … it's going to be great!
If you have an idea for a group outing, or have taken on the responsibility for such a gathering you need to get started about three months before the group comes together. To help you out, we're offering this planning guide with the basic mileposts in the planning process and how may days ahead of the "big event" you should be hitting each of them. We've targeted our planing guide for Labor Day but, you can change the month planning steps for any group camping trip anytime of the year.
Tip: The Bass Pro Shops Eclipse Camp Privacy Shelter is changing room, outdoor toilet, shower stall...you'll find plenty of uses for this handy privacy shelter. This extra-sturdy tent building is made to handle frequent use, with its heavy-duty, shock-corded steel pole frame that holds the tent body in place via easy-to-attach pole clips.
Tip: The Bass Pro Shops Eclipse Voyager 6-person tent is a comfortable family tent with roomy screened porch sporting a roomy and easy-to-setup design. The vestibule front porch can be used for bug-free relaxing or sleeping and protected gear storage.
Tip: Discover the best Camping Sleeping Bags for year-round camping at Bass Pro Shops here. We recommend the Cabela's 5-in-1 Sleeping Bag System found at Bass Pro Shops or Cabela's. The layered system with 2 bags means you can sleep in the outer bag on warmer nights, leaving 3 layers below to maximize cushioned comfort; sleep in the middle for the perfect blend of comfort and warmth; sleep in the bottom bag with 3 layers on top for exceptional warmth; zip the 2 bags together and use them as a double bag; or unzip the bags and use them as 2 separate sleeping bags!
Campers, Get Active in the Outdoors
We get it, you want to enjoy some fresh air and relaxation at the campsite, but you don't want that space and comradery go to waste.
Get active in the outdoors with outdoor games like KanJam's Outdoor Game Set makes any gathering more fun. 2 teams of 2 players take turns throwing and deflecting the KanJam disc to score points. Ages 11 and up
Check out the Poleish Sports Bottle Bash Outdoor Game that requires throwing, catching, strategy, teamwork, offense, and defense. The object of the game is to toss the flying disc at your opponent's pole, which has a bottle on top. Great for parties, backyard fun, camping. Ages 8 and up
Tip: If you plan to hike, the right hiking boot for your outdoor journeys should be carefully considered. A couple of boot recommendations are: Cabela's Rimrock Mid GORE-TEX Hiking Boots for Men. These boots have all weather protection and comfort, moisture-wicking linings, removable cushion footbeds. You'll love the phenomenal traction, even when you're hiking through extreme elements. For the ladies, the same Cabela's Rimrock Mid GORE-TEX Hiking Boots.
Tip: Start scoping out what camping gear you already have vs. what you still need and shop the camping area of Basspro.com for what you need.
Tip: Print out a helpful camping checklist here, then check it off the checklist while you load up.
Click here to see a larger view of How to Plan a Group Camping Trip.