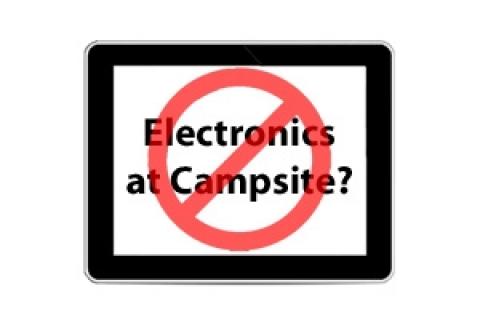 As a father of two kids just out of their teenage years, I have fresh scars from "no electronics at camp" battles. For me, and my wife and kiddos, camping time was and is devoted to interaction with the natural world — not poking at cell phones and personal music devices. With so much to see and do, why waste time fiddling with those time-sucking gadgets at camp? For the most part, I was the winner of the no-electronics at camp campaign. But at night, across the floor of the tent, I would catch a glimpse of a bluish glowing light illuminating the opening of one of the kids' sleeping bags. Soon followed by, "Turn it off and get to sleep."
About one year ago, my wife presented me a gift — an electronic tablet. Now I'm not opposed to technology, but some places, like a campsite, should be the last place imposed on by techy stuff. In my opinion, anyhow. As a writer and, of course, avid reader, I was curious about using the new touchscreen tablet for book reading. After all, I have authored three books that the publisher offers in e-book form. My wife had read several books from the screen of her tablet and occasionally mentioned to me how convenient it was compared to reading from a paper book. I always replied that I prefer to hold a book in my hands and command the page turning. But after toting my techy tablet around for a few months, it has begun to grow on me — and (gulp) it accompanied me to the campground last weekend for the first time.
The primary reason I snuck the thing into my duffle bag was so I could spend a few minutes reading an e-book that I downloaded. As I tucked the tablet between two folded shirts, I envisioned my kids standing there with shocked looks on their faces and pointing at the tablet and saying, "Oh no, no you don't." But I did. Later that evening, at a nearby campsite, my 14-year-old niece and 84-year-old mother, camping with my sister, were reclined in their camp chairs gazing at the stars. The night sky was clear and the stars by the thousands visible for a show. I joined the girls for a few moments before returning to my campsite, and enjoyed pointing out the most commonly known constellations.
The teenager of our night sky observing party wondered aloud about several of the stars and what their names were. I wondered also, and then a thought hit me. I recently downloaded a night sky map app for my tablet. The app uses the tablet's camera and GPS to produce a sky map on the screen — including star names. I hesitated to inform them that in my tent, on my cot, in my duffle bag, was an electronic device that could provide some answers to our starry questions. Should I expose the truth that I had broken my no-electronics at camp rule? And even more humbling, should I take it out of the bag and let it be used? Would my niece think less of me as an outdoors guru? I swallowed my pride and said, "I will be right back."
We giggled and held the tablet to the night sky, allowing the electronic gadget reveal more information about the wondrous sky show. My mother also joined in and held the tablet for a few minutes and, I believe, was as impressed with the tablet's ability as she learned a few new star names. Before returning to my campsite, I powered off the tablet and tucked it in my jacket, out of sight, and returned its hiding spot as if it was contraband. But the next day, the tablet was once again called upon. I had also downloaded an app for bird and butterfly identification, which revealed the name and habits of the glowing orange butterfly my niece had spotted on a wildflower. Another app I downloaded, was a camping gear packing list. This app allows the user to add or delete items for customization. I have added my electronic tablet to my camping gear list. I hope my kids forgive me.