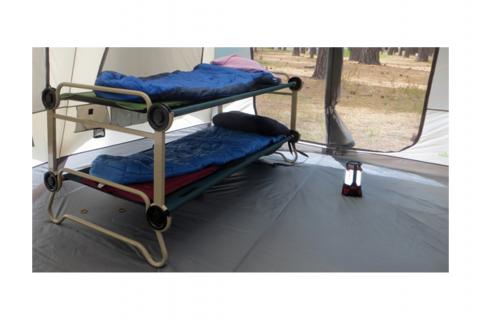 I'd never been one for camping cots, mostly because I'd never tried one that was comfortable. I'm a side sleeper, and the few times I slept on one, my knees, shoulders and head were constantly banging into the rails. Of course, there were lots of times when I wished I'd been off the ground...like when I was hobbling around Yosemite in one of those "walking boot" leg casts that made getting up and down from my sleeping pad a painful experience.
Enter the Disc-O-Bed Cam-O-Cot XL Bunk Beds. That's a long name for what, in short, could change your mind forever about camping cots - mostly because, at 6 feet, 8 inches long and 39 inches wide (a full seven inches wider than many standard camp cots), they're large enough for even a big and tall person to sleep comfortably without banging into the sides.
I have to admit to a moment of trepidation when the 71-pound box containing the cots arrived on my doorstep (7 pounds of the weight was attributable to packing materials, but still). A sigh of relief ensued when I opened the package and pulled out two flat, zippered green cases, each about 36" x 22" in size, that opened to reveal an assortment of steel parts neatly organized in individual compartments. Unlike standard X-frame cots that fold down into long, bulky bundles, these slim (if heavy, at 31 pounds each) cases can slide into a vehicle flat, sideways or up-and-down, consuming a great deal less space.
Once at the campsite, I enlisted my 21-year-old son and a friend to assemble the beds. The instruction booklet that comes with the set is all diagrams, so I figured anyone who grew up building Lego models, as these two did, would have no trouble. And they didn't. Within 20 minutes (they assured me it would take only half as long a second time) the twin, rounded-frame cots were ready for use. (The "Disc-o" in the product's name, as we immediately saw, is derived from the patented disc assembly that connects the beds to their frames.)
A large tent is required to use the cots in twin-bed configuration, and because we had one, that was our preferred mode. We also stacked them bunk-bed style and were impressed by the sturdiness of the assembly, although we didn't choose to use them that way because there wasn't enough space between surfaces for an adult on the bottom to sit up. Children would love this set-up, however, and it also could prove a space-saver for adults using a smaller tent. A cool feature of the bunk-bed setup is the ability to lower one side of the top cot to an upright position, creating a couch for daytime seating.
Because we were camping at Lake Tahoe, where it gets chilly at night even in high summer, we used our regular sleeping pads on top of the cots for insulation. In a hot climate, this wouldn't, of course, be necessary or even desirable.
One unanticipated bonus that a cot provides: Space to store all your "stuff" underneath.
Pros: Very sturdy, very comfortable, easy assembly, packs away in a space-saving case. Great for an extended tent-camping trip or use in a cabin.
Cons: Heavy. Required a tall tent when in bunk-bed configuration.