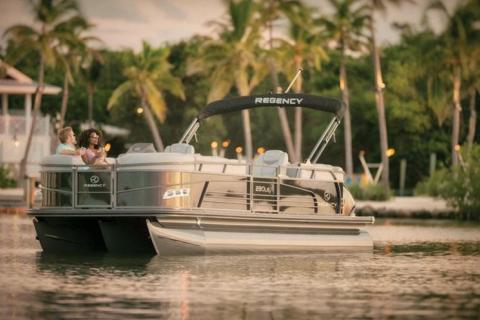 We're Wondering What's the Best Wine to Choose for On-the-Lake Relaxing in a Pontoon
The REGENCY luxury pontoon boat wants to know what your favorite type of  wine is...is it white, red or rosé? Please take our quick poll and tell us what you prefer.
 

Welcome to REGENCY luxury pontoon boats, where quality, beauty, performance, comfort and peace of mind come together in perfect harmony. Every model, from the 210 DL3 to the top-of-the-line 250 LE3 Sport, is carefully crafted with long-lasting materials and craftsmanship and then finished with industry-exclusive creature comforts and styling. All to help you unwind in style with those who matter most.

Tip: Shop quality boating gear and fishing tackle including fishing rods and reels at Bass Pro Shops.
Tip: Find a Bass Pro Shops/Cabela's Boating Center near you.
Bass Pro Shops and Cabela's Boating Centers are more than just boat dealerships. They're here to help make your boating and off-roading dreams come true.
As the world's largest volume boat retail network, as well as the world's largest Mercury outboard retailer, the Boating Centers are proud to offer a wide selection of boats and outboard motors. Plus, more than 100 locations across North America feature TRACKER OFF ROAD ATVs and UTVs. So, we have something for virtually every outdoors need! And with sales consultants who are committed to helping you find the right product for your adventures.