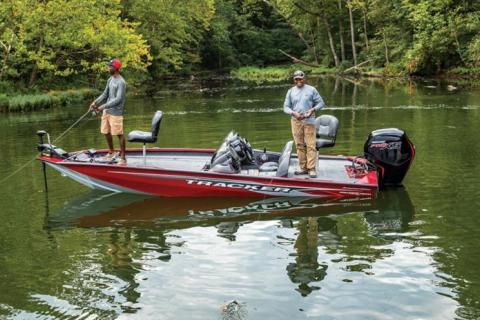 Are You Wanting to Buy a Fishing Boat?
White River Marine Group spokesperson and Product Development Manager, Steve Mason, knows fishing boats. He was once one of the nation's largest Tracker boat dealers, has spent hundreds of hours on the retail floor, and is now an industry consultant. Whether buying your first fishing boat, making the jump to a larger model, or switching from aluminum to fiberglass, below are five questions Mason recommends keeping in mind when shopping.

TIP: Ready for the boating life? Check out Discovery Boating: Boating Guide, Find Your Dream Boat here
After Catching Fish, the Best Place to Care and Store Them in the Boat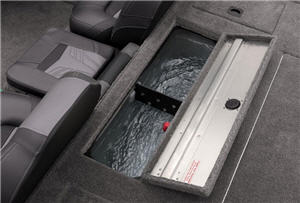 Boat with aerated fish livewell w/recirculator, timer,pump-out system to protect your catch.
The best way to keep your catch alive as long as possible is to use an on-board livewell. Not all fish livewells are created equal. When scoping-out a boat, be sure it has a conveniently located, aerated livewell. Other important livewell features include a recirculating function, a timer for automatic water/oxygen recirculation, and a pump-out system for easy water removal.
 
Whether tournament fishing or after bragging rights with buddies, keeping fish separate is vital to some. Here, multiple livewells or a large livewell with a divider are worth considering.
 

Extra Tip: A livewell with rounded corners is easier to clean and more fish-friendly than one with hard-edged corners, says Mason.
Where Do I Store My Fishing Rods?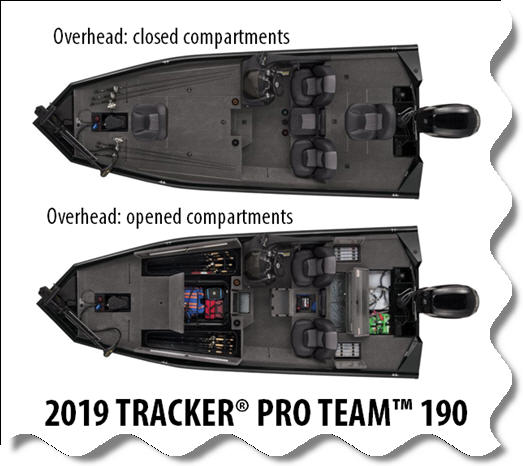 "In today's world, a rod and reel is an investment," Mason said. "How are these protected in the boat?"
 
Anglers should ensure on-board fishing rod storage compartments can safely and securely hold ample spinning and casting rods. Storage length must also be considered and today's trends see many anglers wielding 7'6" and 8' sticks.
 

Extra Tip: Rod hold-down straps are another useful feature for securing combos when running down the lake.
 
Where Do I Put My Fishing Stuff?
"You can never have too much storage in a boat," Mason said. "We want to make sure we take care of the boat owner's stuff, but that there's also enough room for their fishing partner's equipment."
Storage is more than a simple square-foot equation of having enough space to hold tackle boxes, bags, rain gear, life jackets, food and water, tool boxes, safety equipment, and so on. Storage also needs to be accessible and hassle-free.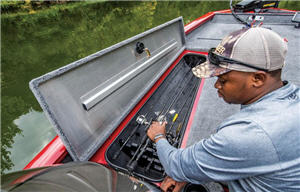 Look for a boat with ample storage.
"What about when I want to switch out a lure? Can I get to tackle easily and conveniently?" Mason asked rhetorically. "Organization is key."
Extra Tip: "I don't know a fisherman who goes out and doesn't have needle nose pliers or some sort of hook-removal system," Mason said, emphasizing buyer's pay attention to a boat's storage options for pliers, scissors, and other commonly used fishing tools.
Will the Boat Layout Suit My Fishing Style?
White River Marine Group offers a variety of boats in different layouts to suit the different wants and needs of anglers. This includes fishability features, like having a large casting deck for two anglers to comfortably cast from the bow or having ample deck space and walkabout room for large families eager to enjoy fishing along with watersports.
Mason also recommends planning ahead when surveying a boat's console layout and electronics. He suggests boat buyer's asking: "As I progress in my fishing skills, what [electronics] am I going to use two to three years down the road and will my console accommodate it?"

Extra Tip: "If you fish in shallow water make sure the boat can accommodate putting on shallow-water anchors," Mason said.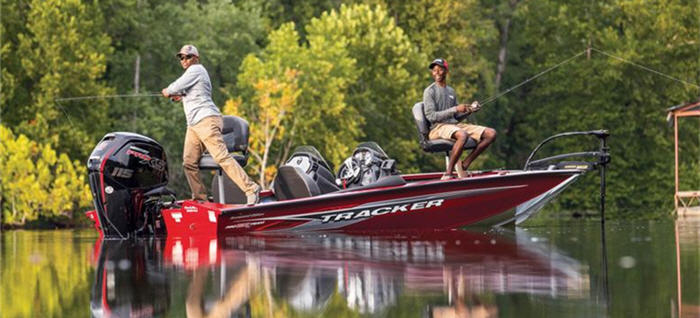 What About Boat Maintenance, Comfort and Peace-of-Mind When Fishing and Driving?
Think about boat maintenance, shop read reviews and ask questions. Proper boat engine maintenance is necessary in all seasons. If you don't have the time or know-how, consider the boat dealers with on-site service departments like Bass Pro Shops / Cabela's Boating Center with more than 130 locations across North America.
Features that keep boats boaters safe and comfortable also must be factored into a purchase decision. Take a dry ride for instance.
"We spend a lot of time in hull designs to keep not only the driver dry, but the passenger dry," Mason said.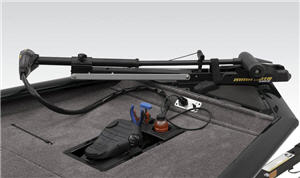 This fishing boat has a recessed space for a trolling motor pedal.
Fishing comfort is another consideration. Bass and other cast-centric anglers should think about buying a boat with a recessed space for a trolling motor pedal. This type of design will keep the foot pedal the same height as the deck floor, allowing an angler to keep their center of gravity over both feet for better balance and overall comfort.
And, let's not forget about the trailer.
"We stress the trailer," Mason said. "Most boats sit on the trailer more than in the water, and we make sure the trailer supports the hull and lets you go to and from the lake very easily and safely."

Extra Tip: Not buying enough horsepower is one of the biggest boat purchasing mistakes, according to Mason. Buyers should consider their boating needs four years from now and purchase ample motor power.
"Your young family will grow and get bigger," Mason said. "Most people underestimate 30mph as very fast, and it is at first, but after running 30mph for a while your preferences change, you'll want more performance."
Avoid buyer's remorse and consider the five categories of questions outlined above when shopping for a boat. Take time, research products, and think about your needs now and several years in the future. Happy shopping!