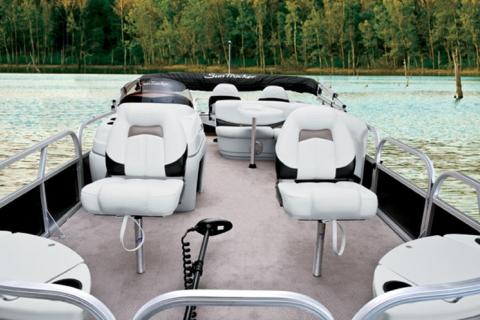 Quality boat seats can make a big difference when it comes to boating comfort. Anglers, hunters and pleasure boaters all rely on seats to keep their watercraft comfortable for their back and backsides. Whatever your boat seat needs, rest assured there are plenty of options to fit the bill. This guide provides an overview of the various styles, constructions and uses for boat seats.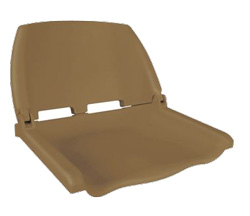 Boat seats can come basic without cushion, to one with lots of padding for maximum comfort.
Materials & Design
Before getting to the different types of seats available, it's important to note that you get what you pay for when shopping for seats. Spending more money equates to better materials that are more resilient to harsh marine environments and engineered to increase your comfort.


Let's look at some features that separate the different quality levels of seats. Except for the most basic models, all boat seats should have foam padding. High-end models will likely provide lumbar support, moulded or contoured cushioning, some shock absorption, a moisture barrier, and perhaps a high-back. All these features mean extra comfort for the rider. Look for seat cushions to be covered with marine-grade vinyl. It offers durability and is usually mildew resistant. For hunters, camouflage models are often covered with 500 to 1,000 denier nylon to reduce noise and sheen. Some seats are also UV resistant, preventing the premature fading of colors.


A good seat will also have a sturdy interior or exterior frame (often made of plastic). Also look for seats to be assembled with corrosion resistant parts like aluminum tubing and stainless steel hardware. A true testament to the quality of the seat you're getting is the extent of the warranty offered by the manufacturer. This service may not be important if you're outfitting a small Jon boat, but if you're upgrading your bass boat or offshore vessel, be sure to check for a complete warranty.


Much like buying a chair for your home, the quality of your boat seats ultimately comes down to materials, features and quality construction. With materials and design covered, let's look at the various seat options available.


Fold-Down Boat Seats
Perhaps the most common design, fold-down boat seats come in many options to suit a variety of vessels. The most basic models are made of plastic without any padding, such as the Bass Pro Shops Folding Molded Boat Seats. A step up from this option are seats of plastic construction teamed with padded sections. These two styles are commonly used by anglers or hunters looking to add some cushioning and back support to small boats at an affordable price. The compact seats' size also ensures they don't take up much space in the already tight quarters of small boats.


From these basic models, the quality of folding seats ranges from good to high-end models at various price points. Anglers and pleasure boaters will find products such as the Bass Pro Shops Hookset Lo-Back Seats or Tempress Navistyle Hi-Back Seats, offer excellent comfort and back support in folding seat models.


In addition to excellent cushioning and back support choices in seats, hunters have a good selection of camouflage patterns to choose from. For example, Bass Pro Shops Hookset Hi-Back Camo Boat Seats are available in Mossy Oak Shadow Grass or Realtree Max-4. Tempress also has Hi- and Low-Back Camo Seats available.


Pro Seats
Pro seats, often referred to as "pedestal seats" or "butt seats," are designed to function more as a cushion to lean on, these seats take the weight off your feet if you prefer to stand while fishing, which helps reduce fatigue. Some popular models include Bass Pro Shops Point Man Pedestal Butt Seat and Wise Blast Off Tour Series boat seats. Pro seats also assist with stability and balancing when standing and angling in wavy conditions. In addition to buying the seat, you'll also need a pedestal. Go with an adjustable pedestal so you can customize the unit to the perfect height. Get a seat swivel as well so that the seat doesn't impede your range of motion.


Boat Chairs
Boat chairs are common in larger boats. They're different from seats as they often feature arm rests, raising the bar in the realm of open-water cruising comfort. There are two main styles of chairs: permanent chairs, which are secured to the boat deck and removable, and folding models that resemble high-end, weather-worthy lawn chairs.


Most permanent chairs are sold in a package including the pedestal, but always verify if one's included. Buy a model with adjustable height and swiveling capabilities for the best functionality on the water. Most chairs feature quality cushioning for added comfort, some of which are removable for off-season storage or easy cleaning. Examples include Springfield's Marine Deluxe Camptains chair and Ladderback chairs or the Wise Offshore Boat Chairs.


Removable, folding chairs come in one or two person sizes. These items are great for additional seating in large boats, but don't feature the adjustable features that come from pedestal-based chairs. Most do, however, include the same quality construction of foam cushioning, durable vinyl, anodized aluminum tubing and stainless steel hardware for corrosion resistance. The benefit of these removable chairs, like the Offshore Angler's Folding Chair models, is they help conserve boat space. You can fold and stack them when not in use.


Bucket & Sport Seats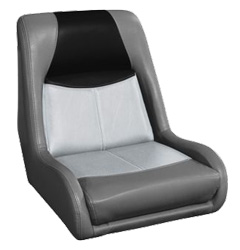 Bucket boat seats offer a more snug, comfortable ride similar to those in sport cars.
Bucket seats and sport seats provide individuals with a snug, comfortable ride akin to sport cars. Seats feature sleek designs and stylish color patterns. They also include plenty of cushioning so you can handle a full day of bouncing across waves whether towing water skiers or simply cruising.


Models like Wise Blast Off Tour Series Swept Back Bucket Boat Seats feature quality materials and engineering to ensure seats can stand up to the force common when running from spot to spot, but can also resist mildew and offer UV vinyl. Some models, like Attwood Avenir Sport Seats, include a spring grid suspension system integrated into the seat to absorb the force of impact when the hull hits waves. Bucket and sport seats are perfect for the power-boaters looking to upgrade or revamp their boat's existing seating.


Jump Boat Seats
The design of jump seats is a great option when storage is a premium in your boat as they are built on a frame. This structure provides storage underneath the seat. Bass Pro Shops and Wise both make this style of seats. The frame also offers additional height for improved visibility without needing a pedestal.


Lounge Seats
Lounge seats are similar to jump models because they're also built on a frame that provides storage space. However, lounge models feature two connected seats built back-to-back, like Wise Deluxe Lounge Boat Seat. These seats can fully recline and are perfect for kicking back, relaxing and soaking up the sun. Their moniker says it all; these seats are truly for lounging. When it's time to return to shore, simply set them in the upright position for cruising home.


Bench Seats
Bench seats are used to replace the seating in bass boats. Some models, such as the Wise Blast Off Tour Series Big Bass Bucket Boat Seats, offer high-compression foam padding for supreme comfort. On some models the entire bench folds downward. On others only the smaller, center seat folds, but the two outer seats will often hinge forward, allowing access to under-seat storage built into the boat's design.


Leaning Posts
Leaning posts give anglers reprieve during long, strenuous battles with big fish. Like pro seats, but in bench proportions, they let you take some weight off your feet and help you keep your balance in rough water. Some models are adjustable and can be converted into a bench with a back rest. Posts also function as more than just a lean-to; they often feature storage space and rod holders as part of their construction.


Swing Back Seats

Swing back seats are similar to benches, and most are large enough to seat two individuals. They're often built with compartments included in the supporting base of the unit. Wise makes models with a cooler or live well built under the seating area. Both these products help you maximize storage space in a boat.


With so much variety available, you're sure to find a seat perfect for your boating needs. Consider investing in a quality model; it'll ensure you stay comfortable when angling or cruising the open-water.