When outfitting your boat trailer, security and safety are two important factors to keep in mind.
Many boaters can recall the serenity of quiet mornings, clear skies and calm water. The flipside to this picturesque image are memories of boat trailer and launch ramp mishaps. Beyond communicating proper launch procedure and choosing a quality launch, the right tools and equipment are two other important factors in successfully towing and launching a boat. This Buyer's Guide discusses boat trailer accessories to make launching, loading and trailer-towing easier and less stressful. 


Keeping the Boat Rig Together
Let's first look at the items you need to safely secure the trailer to the towing vehicle. The hitch is a critical connecting piece. It should be properly installed and certified to pull the weight of the rig you plan to tow. The ball mount and hitch ball should be of superior quality and tightly secured together. The ball mount is secured to a receiver hitch with a hitch pin that is usually held in place with a clip. It is a good idea to carry a spare clip and a pin in case you happen to loose these pieces.


The trailer is connected to the vehicle with a coupler. The coupler should slide easily over the ball, and then be set to a secure position. The unit should be secured in the locked position with either a pin or a lock to prevent it from opening during transport. Test this critical connection point for a secure link before towing. 


Run the trailer's safety chains underneath the coupler and attach them to the proper "holes" on your receiver. This cross-over ensures that if the coupler connection fails, the chains catch the trailer, preventing it from hitting the road or separating from the vehicle. Some chains can be purchased with clips for easy, but secure, links to the receiver hitch. Check chains and the other coupler parts for wear, replacing rusty ones with new stainless steel ones.


Securing the Boat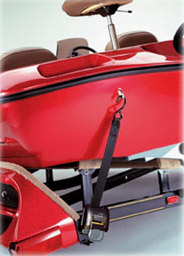 Some tie-downs have ratchet and heavy-duty clips for a tight connection between the boat and trailer.
Keeping your boat on your trailer begins with a secure connection at the bow. Usually the boat is held in placed at the bow clip by a winch strap (with a clip) and a security chain. A tie-down strap can also be used. Every so often, inspect the bow clip, chain and winch strap for signs of wear and weakness, replacing worn parts as needed; frayed straps can break while towing or when cranking a boat on a trailer.


The boat's stern can be fixed to the trailer using tie-downs. Tie-downs come in various models for different boat designs. Transom and gunwale are two common types for keeping the rear of the boat snug on a trailer. Some tie-downs have ratchet and heavy-duty clips for a tight connection between the boat and trailer. 


A transom saver is another useful accessory, especially if you regularly drive on rough roads. It stabilizes and holds the engine while towing your boat. The motor's weight is transferred to the trailer, as opposed to the back of the boat, reducing stress to the transom area. 


Launching and Loading a Boat

Launching your boat from the trailer can be a smooth operation with the right accessories. First, a long bowline allows the boat to properly float off the trailer when launching. Installing a plank trailer walkway on the front of your trailer will prevent you from falling off the trailer. The walkway provides a wide, slip resistant ramp that mounts directly onto your trailer. This add-on is particularly useful during cold conditions.


Loading a boat onto a trailer may seem like a roll of the dice, but it doesn't have to be a gamble. Guide-ons will greatly enhance your launch ramp exits. These pieces of hardware mount to the back-sides of your trailer and guide your boat on the rig. They are especially useful in rough water and heavy winds. Guide-ons come in bunk, roller or post models and some even feature lights to increase your visibility in dark conditions. I highly recommend guide-ons for any trailer.


As your boat moves on the trailer, bunks and rollers move it to the proper towing position. Keeping your bunks in good shape and replacing worn padding will ensure your boat's hull does not scratch on the trailer. Rollers can also come in non-marking polyurethane models that will outlast rubber ones. Some rollers have grooves to make centering your boat a snap. As the cylinder rolls, the grooves guide the boat to their center position.


Finally, if your trailer doesn't have fenders for the wheels, consider adding some. Fenders protect your boat's hull, trailer and vehicle from dirt and debris while towing. Some fenders also have side steps. Steps can be useful when launching and loading your boat. They are also safer to walk on than a wet, slippery trailer frame.


A Word on Boat Trailer Wheels
The quality and condition of your trailer wheels is critical to your and other's safety on the road. You should regularly inspect wheels for wear and bearings for proper lubrication. To make the latter an easier process, consider a device that keeps bearings lubricated at all times. Simply look at the device and you'll know if you need to add grease. These systems also reduce how often you need to repack your bearings.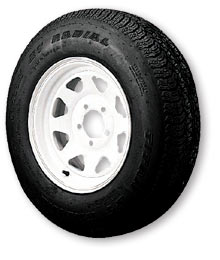 Having a spare wheel and the tools to change a flat is wise when towing a boat.
Adding a cap to your bearings will help contain grease, preventing it from splattering on the hubs of your wheels. Carry a spare bearing kit as a precaution for problems during travel. Keeping bearings lubricated is important, so invest in a grease gun and some specialty marine grease. 


Having a spare wheel and the tools to change a flat is wise when towing a boat. Spare wheels can be secured to a trailer with special hardware. Carriers come in models for various tire types and in different mounting options. Use a cover to protect the spare from the elements.


Security for Your Boat and Trailer

Locks are one of the best methods to deter thieves from your boat and trailer. Trailer locks can be purchased for the coupler, spare tire, as well as large models for the hub of your trailer wheels. 


For the boat, there are locks to secure outboard motors and propellers. Motor units cover the transom mounting clamps. To secure your propeller, two options exist. One is a specialty lock that replaces the prop nut and washer, allowing the unit to operate when locked. The other option is a larger prop lock, which connects the propeller to the out drive, or lower unit. This style of lock must be removed for the motor to work.


Boat Maintenance and Storage
To prevent your boat from rolling during storage, use wheel chocks, especially if on a slope. Units can be purchase in plastic or metal models to hold trailer tires in place. Another handy item is a jack wheel stop. This flat, plastic ring encircles the jack's wheel, preventing it from moving.


Depending on the weight of your boat and the distance you need to move it, you may want to consider a trailer dolly. Dollies let you move your boat trailer by connecting at the trailer coupler. The dolly's long handle reduces your need to bend and lift the trailer, which greatly limits the potential for back strain. The unit's wheels also make moving a trailer an easy operation. 


Another accessory that helps move your trailer is a jack that mounts to the trailer's tongue. Jacks often come with most, but not all, trailers when purchased. Cranking the jack's handle, you can raise or lower the frond end of your trailer. The jack's wheel also facilitates moving the trailer when not being towed, as jacks come with a wheel to support the front of a trailer. 


Lights and Wiring on Your Trailer

For safe travel, and to meet transportation laws, the lighting on your trailer must work at all times. Before towing, ensure all signal and brake lights are functioning. It's a good idea to carry spare bulbs if you need to replace one. If a light isn't working and you can't isolate the problem, a small accessory can be plugged into your vehicle's 4-way plug. If the unit's lights go green when signals and brakes are used, the automobile wiring works and the trailers wiring is the problem. 


To replace wiring or lights you can buy parts individually or in a kit. Most kits include the necessary mounting hardware. Lighting fixtures come in a variety of models with different features, like submersible trailer lights, corrosion resistant materials, and LED light sets for longer burning hours. You can also purchase reflectors for your trailer to replace broken ones or to simply increase the unit's visibility.


Toolkit
A toolkit or storage box that you can keep in your vehicle or boat for your trailer is a sound investment. Beyond standard tools (such as pliers, a ratchet set, screwdrivers, etc), the box should also keep trailer specific items (bearing grease, electrical tape, scissors, tire pressure gauge) and replacement parts (bearings, pins, light bulbs, etc).


Your trailer plays a critical role in your boating activity, carrying your vessel to and from the water. The above accessories make towing and launching your boat an easier and safer process, so you can enjoy more time on the water and less time on the pavement fixing problems that could have been prevented.