My guide client Dave and I were drifting along a river section that split around a small, gravel-covered island.  We were concentrating on the main bank, where a deeper trough hugged the shoreline.  We saw steady action all morning, but nothing for 15 minutes or so and were just about ready to move to another area.  Then I happened to look over my shoulder, toward the island, and noticed surface disturbance and a spray of jumping minnows.  Excitedly I asked Dave to fire a cast in that direction.  A moment later he was hooked up with a three-pound-plus river smallmouth. 


After landing that spirited bass, we drifted 10 yards downriver to the lower tip of the island, where a point of sand, gravel and fringe of weeds dropped off into a slot four to five feet deep.  At least a dozen smallies were on top of the sandy point, again churning-up the surface with their minnow-chasing antics.  Dave managed to boat a half-dozen bass before the onslaught subsided.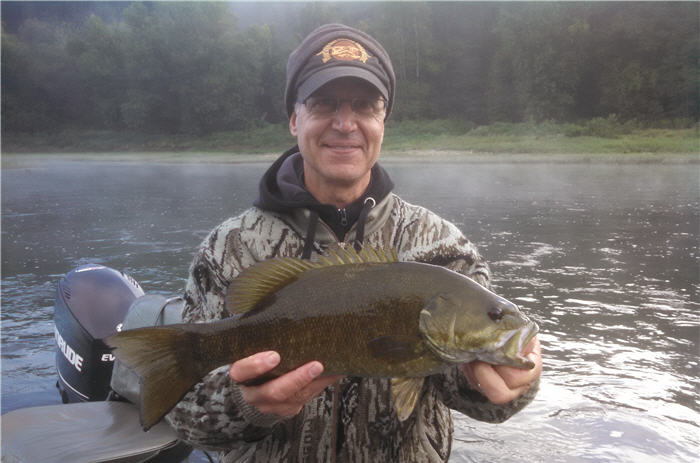 Having a fishing rod rigged with a topwater lure will let you react should a school of smallies start busting baitfish close to the surface.

Not necessarily known for ganging up and herding baitfish, smallmouth bass do in fact do so, particularly during the early- to mid-fall period.  My client caught his bronzebacks on a fluke-style soft jerkbait, which was perfect for these shallow water fish.  Here are a couple other scenarios where smallies slash and strike.


Confined Open Water In Clear Lakes – By "confined open water" I'm referring to open water areas near structural elements such as humps and points.  Smallmouth will often feed on young-of-the-year panfish that tend to group up in these areas during autumn.  These young bluegills, crappies and pumpkinseeds are just attaining enough size to interest smallmouth bass, which gobble them up by the mouthful.  Watch for surface feeding activity.  The schooling bass are in an aggressive mood and will hit a variety of lures, so choose one that can be cast a long distance. I've scored well with a jigging spoon like the Bass Pro Shops Strata Spoon.  It casts like a bullet, then sinks with strike-inspiring action.  Lures in the ¼ to ½ ounce range work best for this situation.


Weed Humps And Points – Humps and points that have a good covering of submerged weeds often see smallmouth bass activity on or near the surface during the fall.  On one of my favorite fall lakes — a stained water reservoir that has an abundance of gizzard shad — smallies feast on shad that are stunned by sudden drops in water temperature.  It's a common occurrence during the fall following clear, cold nights.  Foraging smallies can be taken with topwaters like the Zara Spook and flashy spinnerbaits, typically during the first hour or two of daylight


Understand that in most cases these situations are incidental ones and oftentimes short-lived, where you happen to be in the right place at the right time.  But knowing that a school of smallies can start busting baitfish close to the surface, and having a fishing rod rigged and ready to cast into the ruckus, can equate into some fast unplanned action.


Anglers, find more tips and videos on fishing fall smallouth at Bass Pro 1Source.