Arizona fishing pro Josh Bertrand is never happier than when he's staring at his graph, working a dropshot rig in water at least as deep as his Nitro boat is long. In a perfect world, he'd be looking at 'em in 40, 50 or even 60 feet of water, because that's when many of his peers start to get a little nervous and think about giving up. There can't possibly be a bass that deep, can there?


Of course there are bass there, but sometimes they aren't the tournament winners. On occasion, even a deep water freak, the Elite Series version of Jacques Cousteau, feels the urge to go shallow.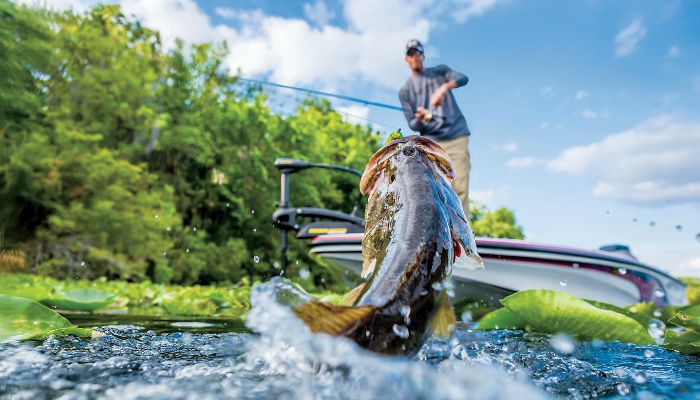 Summer conditions push most anglers to deeper water. Don't be fooled.  A winning limit may still reside in shallow vegetation.
When to Buck the Trend


Sometimes he turns to the bank because it's the only game in town—when fish are shallow and visible— like in the spring during the spawn. Other times, the best bite may be firmly planted in his comfort zone, but he may have to abandon shop for other reasons.


"Even on big lakes like Kentucky Lake, Chickamauga and Pickwick, when everyone on the whole lake is offshore, it can get crowded real quick."


He recalled a late summer tournament that he fished on Oklahoma's Fort Gibson Lake when practice dictated that the fish would be on deep rocks, but once the tournament started you had to take a number to get anywhere near them.


"Everyone was on those rock piles in 10 to 20 feet of water," he recalled. "There were a lot more boats than there were rock piles. You'd pull off of one and immediately another boat would pull up."


On the first day of the tough, low weight event, Bertrand scratched, clawed, and metered his way to a lackluster limit that had him in 60th place or so. The second day, though, he threw caution to the wind, put the dropshot away, and went shallow with a buzzbait and a topwater lure. Instead of a meager 8 pounds, he caught 13, which rocketed him up the standings 50 or so places, into a ca$h money finish.


"When the water is really, really hot like that, they're either extremely deep or extremely shallow," he reasoned. "And a lot of times those shallow fish aren't getting hit too hard."


Five for Fighting


Whether you've punted off the deep water patterns after giving them the old college try or you're just depthfinder-phobic and prefer to stay shallow, Bertrand said that the best way to go after these non-conforming fish is with a five bait setup that covers various levels of aggressiveness.


"These fish are looking for shad, so that's what you have to imitate," he explained. "I'd definitely have a soft swimbait like a Berkley Havoc Grass Pig, because there's some kind of vegetation to fish on just about every lake. I'd also have a walking topwater and a buzzbait, probably a white one. I'd tie on a square bill, like the new Berkley Pitbull 5.5. You'll also want something slower, that you can fish around docks, and I'd start with a Texas rigged four-inch Berkley Havoc Pit Boss."


It's still not his first choice to go shallow when the deep stuff beckons, and Bertrand admitted that at a recent Kentucky Lake tournament he didn't go shallow—but upon further thought he started to get excited about having it all to himself.


"People think that it's just a low light, first thing in the morning bite," he said. "But sometimes it can last all day."