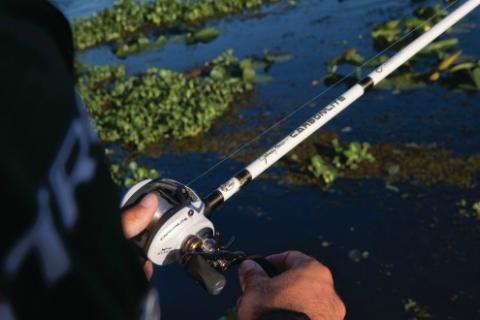 Peek into Bassmaster Classic Fishing Champion Chris Lane's rod locker prior to derby day, and you're likely to find a dozen or so Bass Pro Shops CarbonLite fishing rods and matching CarbonLite reels.  But he has a secret...
There might be one or two more—or maybe just 11—but it always hovers around that even dozen. Look in his truck and you'll probably find the same number once again. Some of them are doubles, for when the bite is hot and heavy on a certain technique. Others are custom suited to presentations that won't come into play that day. No matter what, you can never accuse him of being underprepared. He always has the right tool for the job at the ready.
Tournament fishing has increasingly become a game of specialization, with particular rods for everything from shakey-heading to Alabama Rigs, and it's easy for the newcomer to quickly get overwhelmed by the available variety, as well as the array of optional components and features.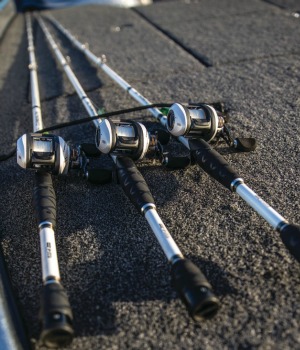 That's where Chris Lane's dirty little secret comes in.
You don't have to have 20 or 30 or more rods to be a successful tournament angler, he said. In fact, while sometimes a particular length or action is critical, other times you can use the same stick for multiple purposes. The key is to find the ones that are right for you. "Not every fisherman is the same," he explained. "There's a huge variety to the end user."
That's why he likes the CarbonLite rods like the Bass Pro Shops Johnny Morris CarbonLite 2.0 Casting Rod.
"They hold up well and they're sensitive," he said. "Most importantly, the offer options to choose what is most important to you, whether that's micro-guides or titanium guides or something else."
That said, he thinks that most tournament fishermen can get along with a limited sample of sticks for a wide variety of applications. Here are three fishing rods he never leaves home without:
1. 7 ft. 3 in. Heavy Fishing Rod
"You can use it as a frog rod or a flipping stick," he said. "Even as a long rod for a topwater bait." When it's time to make big fish eat steel in heavy cover, this is the rod you want to call on.
2. 7 ft Medium-Heavy Fishing Rod
"This is my all-around fishing rod. I use it for a spinnerbait, a worm, and a jig," he said. "I think you can use it on anything that's not truly heavy." It can also be used for a chatterbait, a swim jig, or a soft stickbait.
3. 6 ft. 6 in Medium Fishing Rod
"I'll use this one with a jerkbait and fluorocarbon, or with a smaller topwater and monofilament fishing line. It's your all-around rod that you pick up when you want to fire a bait out there. It gives you tremendous versatility with smaller lures, especially when you want to change back and forth."
Of course, this leaves out some of his specialized tools, like a 7'6" flipping stick, which many consider his bread and butter. Lane has those in his boat and truck to be sure, but for the starting angler—or even the intermediate—you're better off getting a few rods that can handle multiple tactics, and then expanding out from there.
See Edwin Evers' Rod Recommendations for Anglers on a Budget.
Learn Josh Bertrand's 3 Favorite Rod & Reel Setups.