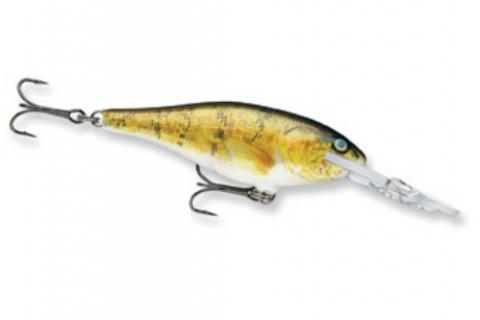 Tennessee pro Ott DeFoe loves to crank, even when the water's frigid and he can see his breath. When those conditions prevail, it's almost a no-brainer that he'll start flinging his favorite cold-water hard bait—the Rapala Shad Rap. It's been around for three decades, and while there have been many imitators, no one's been able to pin down that natural action quite as well as our friends from Finland.


"Confidence and history are important with any bait, and I caught my first 5 pound bass and my first 7 pound bass on a Number 5 Shad Rap," he said. "That gives me confidence, as well as many other memories with it in cold weather."


Some of those good memories have been forged more recently, including at Bassmaster Classics on the Red River, Grand Lake and Lake Hartwell, in each of which the Shad Rap helped him out. With the championship returning to Grand shortly, he's sure to have a box of them at the ready.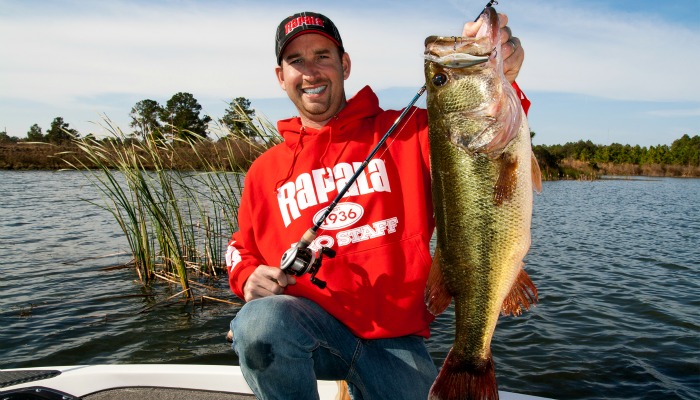 Add a Little Wiggle


What makes this bait so incredibly effective is its natural swimming action, which is a combination of the angle of the bill, the shape of the bill, and its balsa body.


"The best wobble for a cold water crankbait is very tight," he explained. "Not a lot of side to side. This just swims along subtly. It's definitely not a hard-thumping action. It's not really very buoyant, either. It floats, but slowly, which is great when they're eating it on the pause."


Size Things Up


Rapala makes this lure in six bass-centric sizes, from the diminutive Size 4 (1/8 ounce) all the way up to the gizzard-shad-replicating Size 9 (9/16 ounce), but it's the #5 and #7 that get the call the most, with the newer #6 getting an increasingly large slice of the pie. Each dives to a slightly different depth, but the signature subtle wiggle extends across the entire lineup.


Like most crankbaits, the Shad Rap excels when there's a bit of color in the water, although DeFoe said he's used it successfully with up to 6 feet of visibility. "The best case scenario is two or maybe three feet of visibility," he said. "Sunny, with some wind and a little ripple. But if there's wind and clouds you can extend that out to three or four feet."


Color Inside the Lines


He carries a box of them wherever he goes, in a wide range of colors. But for the newcomer, he suggests starting "with original Shad and original Crawdad and building from there. You can't go wrong with those two."


In dirtier water he employs patterns in the firetiger family, and in super-clear water his newest favorite is the Custom HD Live River Shad, which looks incredibly lifelike and real.


Take Them for a Spin


Since even the #7 Shad Rap weighs only 5/16 of an ounce, and its balsa body catches wind like a sail, DeFoe throws it exclusively on spinning tackle. While baitcasting gear might work for the largest of them, "it becomes less effective, and fishing is all about making as many effective presentations as possible."He likes a 6'9" medium action Fenwick Elite Tech spinning rod paired with a Pflueger Supreme XT in Size 30. "It's a little bit smaller reel and takes up less line, so it's easier to fish the lure slow with that one," he explained.


He uses straight fluorocarbon, usually Trilene XL, which is softer and a little bit more manageable on spinning tackle than Trilene's 100% Fluorocarbon, most often in 8 lb. test, although when fish are extra finicky he's gone down to 6.


Hook it Up


Finally, he encourages anglers to change the hooks on their Shad Raps. The VMC models that come from the factory are sticky-sharp, but they're short shank versions, and by changing them out to regular length shanks, he finds that he lands more fish.


"You get a lot of fish nipping at the bait that time of year, and this will help you catch more of them," he concluded.