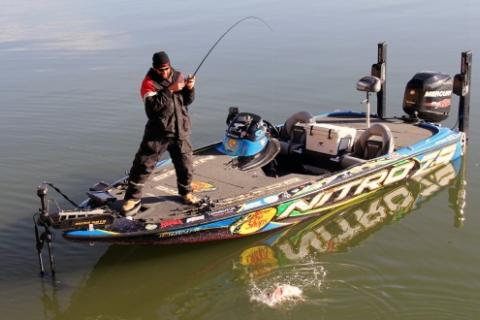 In the fall, fresh off their summer laziness and in anticipation of their winter chill, bass want to get fat. They are the finned equivalent of the offensive linemen who strike fear into the heart of buffet restaurant owners. These bass have big mouths, big eyes, and big appetites.
On most major largemouth fisheries, the primary object of their gluttony is the common shad. In some cases it's threadfin shad. On the TVA lakes, they may be jazzed up enough to go after the big old gizzards. Either way, shad travel in packs making them easy pickings for hungry bass.
If you can find the bait, you can usually find your prey.
Tip: Watch Randy Howell's Shad-Shap Dropshot Secret video
Prime Shad Locations Where the Bass Play
NITRO Boats Fishing Pro Ott DeFoe of Tennessee has seen the bass-chase-shad scenario play out time and time again when autumn approaches. "On most major bodies of water, the shad start to migrate to the back of any cove or tributary as the water starts to cool off," he said. "It doesn't matter if the tributary is a major river or just a creek arm, that's the first place I go."
You can run your boat all the way to the back and then fish out, hitting key structural elements along the way. Eventually you'll intercept the bait and the bass should be right there with them.
On calm days, that's his game plan, but when it starts to get gusty, he may start elsewhere. "If there's any amount of wind, I'll go directly to the shoreline that the wind is blowing on," he explained.
How to Find the Shad Bait
If it's windy out, DeFoe will rely exclusively on his electronics to figure out the positioning of the bait balls. He's a big fan of Humminbird marine electronics  and underwater cameras like the Aqua Vu, but also uses down-imaging and side-imaging to obtain a complete picture of the underwater world around him. With modern electronics, it's possible to pick out not just schools of bait, but also individual baitfish themselves.
Tip: Shop all Lowrance Elite Ti2 Series Fish Finder / Chartplotter
Tip Watch Video: Ott Tells How the Aqua Vu Camera helps him
If it's calm, he'll use his electronic eyes plus the peepers in his head to get the job done. In areas where the shad are plentiful – which is where you'll want to be – often you'll see not just a few baitfish, but rather acres of water where it looks and sounds to be raining, even when there's not a cloud in the sky. That's the sweet music of frenzied shad dimpling the surface. If there are bass blowing up on them, you know that you've hit pay dirt.
Another sign to look for is diving birds in the distance. They're not going at it just for kicks.  If they're circling and swooping they are there for the same reason as the bass—to fill their bellies.
DeFoe will take his shad wherever he finds them, but explained that the best situation is when they're shallow or relating to a particular piece of deep water structure, like a high spot, a hump or a drop off.
"If they're out over a 50 to 100 foot basin, or 15 to 20 feet deep in a creek with no depth change, that's not as good as if they're relating to a creek channel," he said.
What to Serve Those Hungry Bass
Like most of us, DeFoe loves the thrill of a topwater strike, and when bass are pushing shad through the water's surface in the fall, there can often be no better option. He's particularly fond of Rapala's Storm Arashi Top Walker, a walk-the-dog bait that comes in 4 ¼ and 5 1/8 inch sizes. At ¾ of an ounce and 1 1/8 of an ounce, respectively, you can throw them into the next county, which is critical when hungry bass start busting on shad at a distance. If you're confronted with a head wind and a case of the jitters, it's a lot harder to get that that ¼ ounce popper in the zone. He likes the Top Walker in the Ghost Pearl shad patterns.
Tip: When it comes to working topwater for big fish, nothing does it like "walking the dog." with the Rapala Skitter Walk to imitate a swimming baitfish.
When the shad and bass aren't looking up, DeFoe employs the Rapala DT (Dives-To) series of crankbaits to get their attention.  He will usually go with anything from the DT04 to the DT016, depending on the depth of the water and the location of the bait. With their balsa construction and thin lip, they get into the strike zone fast and stay there, tempting shad-focused bass to strike.
Once again, he's unlikely to go with gaudy chartreuse or craw-imitating color patterns on his cranks. He wants something that imitates the real thing. "If there's more than 2 ½ feet of visibility, I'll usually go with the Custom HD Live River Shad. If the water has a bit more color, I like Disco Shad and Smash from the Custom Ink colors by Mike Iaconelli."
Find the bait this fall and you'll find the fish. While they fill their bellies you can fill the livewell, and hopefully leave that weigh-in bag bursting at the seams.