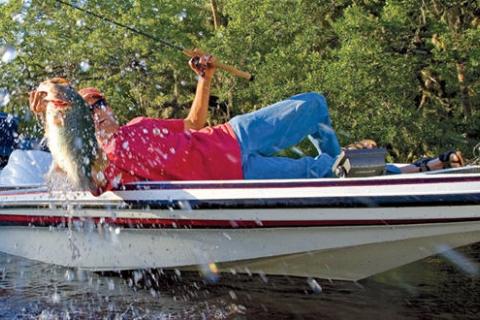 Sometimes what is old can be made new again, and such is the tale of the Carolina-Rig.  Despite being directly responsible for countless fishing tournament wins and trophy bass brought to the boat, this rig continues to fly under the radar. Bassmaster Elite Pro Josh Bertrand knows well enough there are specific windows when this technique will shine like no other.


When Fishing With the Carolina-Rig Works Best
Bertrand reaches for a Carolina-Rig during the post-spawn when fishing is especially tough.  That could also mean post-frontal conditions, blue bird skies, incredibly hot weather, or when fish are not active in the shallows.


Why Does Carolina-Rig Work?
It's such a slow moving natural presentation that maintains contact with the bottom.  Simply drag the rig and take the slack- it's an easy rig to slow down with," Bertrand said.  "I feel like a Carolina-rig is even better for tough fish because that bait is freely swimming way back behind the weight on its own and looks so natural." 


Click here for a larger view of this infographic about 4 Plastic Worm Rigs for Bass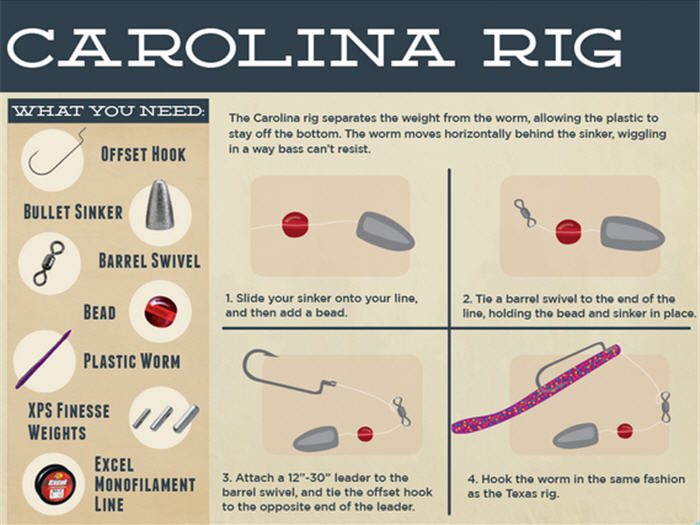 Best Places to Fish a Carolina-Rig
Anytime he's fishing grass and rock, he'll have a rod rigged with a Carolina-Rig.  The rig comes through the grass much better than a Texas-rig.


For Bertrand, key lakes where a Carolina-Rig excels are Toledo Bend, Lake Fork, Guntersville, Kentucky Lake, Pickwick Lake, and Fort Gibson.


What Works Best for Tying a Carolina-Rig On?
While the jury is still out on what works best, Bertrand favors a 17-pound fluorocarbon mainline because of how much he can fit on a spool and its castability.  On the business end, he'll rig up a 12- to 20- pound leader. 


Those who favor a monofilament leader fishing line argue that it helps float plastic baits higher off the bottom.  Bertrand doesn't buy that theory believing instead that after one or two pulls, the bait is lying on the bottom.  "Fluorocarbon is tougher, more abrasion resistant, and invisible to the fish.  It's been a long time since I used mono as a leader," he said.


The only time Bertrand chooses braid for his mainline is when he's targeting trophy bass, like on Falcon Lake, where he runs a 25-pound fluorocarbon leader and a heavy gauge hook because the fish are so big.  He shies away from braid most often because he normally fishes a light-wire hook and the no-stretch properties of braid could straighten a hook and cost him an important fish.


Bertrand favors fishing tungsten- it's density transmits the bottom much better than all else.  Bertrand uses a tungsten bead and warns anglers that a glass bead will shatter when the bigger and harder weight is slamming against it. 


When it comes to choosing leader lengths, he'll let the activity level of the fish and the type of bottom dictate.  "In grass or when targeting inactive fish I'll run a longer leader, even up to 5- feet with a lighter sinker.  When I'm targeting active fish on a hard bottom, I'll opt for a shorter leader measuring as little as a foot but use a heavier sinker.  Often I'll start with a ¾-ounce but will drop down to 3/8-ounce if need be."  A ball-bearing barrel swivel is perfect.


Fishing Gear Talk
A 7'6" medium heavy action Abu Garcia Veracity bait cast rod paired with a 7:1 Abu Garcia Premier Revo Reel gets the nod.


During pre- through post-spawn, Bertrand fishes a Berkley Power Lizard or Power Hawg in green pumpkin or shades of watermelon on a Berkley Fusioin19 3/0 offset hook.  The Berkley Havoc Boss Dog is a beefier lizard that green pumpkin works well with. 


From summer through fall, he'll switch to a Berkley Power Worm in a plum pattern and rig it with a 5/0 offset hook.  "When I run the hook through the head of the worm, I'll actually thread the hook down a ¾- inch to get that hook a little further down into that worm to hook that fish a little further into its mouth," Bertrand explained.


TIP:  4 Plastic Worm Rigs for Bass That You Shoud Know (Infographic) 


Setting the Hook & Sealing the Deal


"When I get a bite, I'll take my time to get in position, almost a 3 count, and set the hook good," Bertrand started.  "They are not going to spit it out, they aren't going to feel the weight of the sinker.  If something doesn't feel right, take the slack out of your line and set the hook hard using a sweep set.'"



VIDEO:  Watch this step-by-step video on how to tie the Carolina Rig