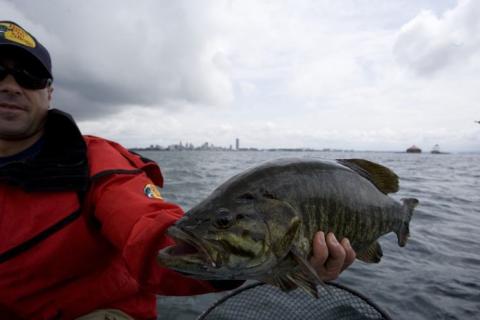 Canadian smallmouth ace, Simon Frost, calls the eastern basin of Lake Erie home and knows that smallmouth bass can be moody.  So what's Frost's solution when a tube jig and dropshot take a break from the action? He's convinced the Bass Pro Shops Speed Shad swimbait will clean house.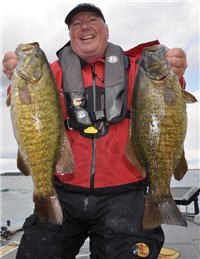 1. When the Swimbait Excels
Once the water temperature drops to 45°- to 55° Fahrenheit, Frost fishes a swimbait rigged on a football head jig.


As fish begin to gorge on bait and store for winter, Frost will seek out areas that have a mix of gravel and rock, transitions, broken rock, and sand flats, in 30-40 feet of water.


"I'll make super long casts to cover more water.  I don't drift or stroll, I don't believe in it, I'll make precise target casts," he said.


"Sometimes they work better than a tube in dirty water because of the water displacement by the tail.  Especially when targeting sand, the football head and tail of the bait will stir up a lot of sand," Frost said.  He believes that smallmouth are drawn to the commotion and eventually attack the bait.


2. Best Size and Color Swimbait
The smaller sizes of swimbaits have a place, especially when it's warmer in the summer.  


In the fall, Frost prefers to fish a 4 ½ inch BPS Speed Shad on a 1/2-ounce football head.  Sure you can substitute a ball head jig, it'll just get snagged up in the rocks just about every cast!  "A football head goes through the rocks better and stirs up sand," Frost said.  


Frost will swim it and drag it along the bottom so that it is banging off rocks and ploughing sand while leaving a messy trail behind the bait.  If smallmouth are particularly fussy, he will dead stick the bait.


Ayu and male perch are his favorite colors but will switch to green pumpkin if the smallmouth are feeding on gobies.  He will soak his plastics in Smelly Jelly or Berkley Bass Scent to help smallmouth hold onto the bait just a second longer.


3. Prepare for Bottom Huggers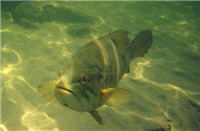 During the fall, smallmouth will literally lay with their belly to the bottom of the lake and, at times, will not move.  Using a Humminbird Helix 12 unit, he will run a 2d split-screen with zoom so that he can more easily spot those fish that easily blend in with the bottom.



TIP: For suspended fish, he'll cast past and swim his bait through the school.



TIP: When faced with deeper water or rough water, he will up-size to a ¾-ounce jig head.  


4. Triggering the Bite
Frost wants his bait to fall vertically since half of his bites come on the fall.  


"If you feel a bite while the bait is falling, you've only got a few seconds with those fish to set the hook.  If the bite comes once it touches bottom, reel down until your starts to load and you feel the weight of the fish.  Then, set the hook.  Hard!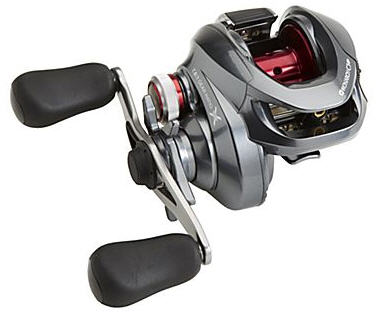 Shimano Chronarch CI4+ Baitcasting Reel
5. Gearing Up
Frost prefers a G-Loomis E6X 903C or NRX JWR 893 MBR medium-heavy bait cast rod paired with a high-speed Shimano Chronarch Ci4+ reel spooled with 5-pound Power Pro.



TIP: Sure, 10-pound braided line will work, just not as good as 5-pound test.  Frost is a light-line finesse addict obsessed with uncovering any trick possible to getting more bites from trophy fish.  "Since the line is lighter and thinner, you can get away with a smaller reel that balances nicely with a bait cast rod.  The lighter line cuts through the water and casts better," Frost explained.  Water clarity and bottom composition will dictate whether he uses a 10- or 12-pound BPS XPS fluorocarbon leader.