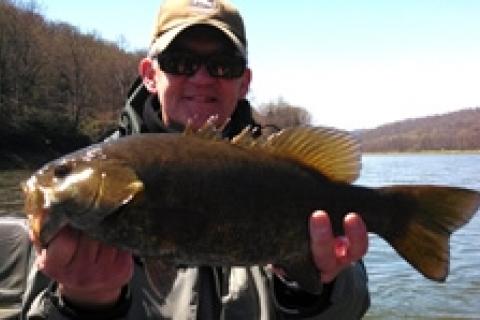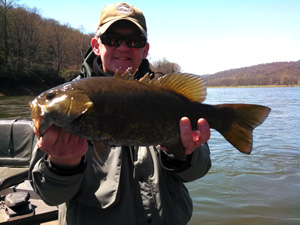 The other day I was reminded that it's often best to trust your instincts. Thanks to a high-water imposed layoff, it was my first guide job on the Allegheny River in around two weeks.
The morning bite was slow — a fish here and there on tube jigs. It was about what I'd expected. On a scouting trip the previous afternoon, smallmouth bass activity had been sluggish; the fish apparently not over whatever funk several days of raging flows had put them in. And the night had been clear and cold, with water temperatures taking a slight dip. So I had little to make me think that things would be different this day, at least until afternoon when the sun's warming rays had had a chance to work their magic.
When early spring river smallmouth bass get active they move out from deeper haunts, on to comparatively shallow rocky flats where they feed. It's a perfect situation for fishing a suspended jerkbait. Typically the thing that triggers this movement is warming water. Just a degree or two can do the trick. So as the day warmed I'd occasionally put us over such cover, testing the waters to see if any brown bass had arrived.
Around noon I picked up a smallie on an XCalibur 4-inch twitchbait. The fish barely nipped the tail hook. But it was a sign that they might be waking up.
I've found that rocky flats located downstream of incoming streams are often great early spring "jerkbait flats." In addition to the cover, the incoming water is often just a tad warmer than the river. I knew of two such spots we could hit on the way back to the ramp.
The first spot produced two nice smallies on the first drift. I ran upriver and we hit it again, picking up a couple more. Now the question was: Do we stay here, or hit the last spot near the landing? My gut told me to take the gamble.
The boat drifted toward the mouth of the feeder stream as I killed the jet outboard and dropped the trolling motor. One of my clients cast into the flow of incoming water. Within a couple cranks of the reel handle he was into what looked to be a 3-pounder. It came off on the way in, but another at least as big grabbed the lure. He lost it too, but it wasn't a big deal, as the next four casts were all intercepted by big smallies.The client in the back of the boat was into them as well.
For the next hour it was mayhem, with me doing what a guide loves to do: net fish, struggle to keep the boat on the spot, and in general deal with the happy pandemonium that occurs when the fishing is outrageously good.