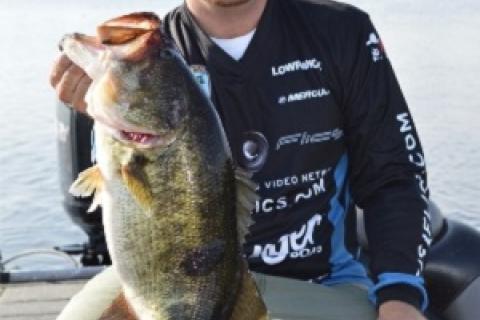 Baker Takes Wild Card Lead
Shaye Baker showed his Florida fishing prowess today with a 29 pound 8 ounce limit. Baker is better known for his work for Bassmaster.com than he is for putting a hurt on other pro anglers and fish. A few pounds back from Baker is Yamaha pro Russ Lane with 25 pounds. Right behind Lane with 24 pounds 4 ounces is Frabill/Plano pro Chad Morgenthaler. Rounding out the Top 5 are Phoenix Boats pro Greg Hackney with 21 pounds 15 ounces and Mercury pro Fletcher Shryock with 20 pounds 13 ounces.
Baker busted the big one
Shaye Baker's hawg anchored his Day 1-leading limit. Baker busted the big one "That big fish is the biggest bass I've ever caught," said Baker. "Over the last few days, I found the good fish. This is Florida, so you just don't know if they will stay. "I'm targeting bigger fish, so I'd like to break 30 pounds tomorrow. I had about 15 or 20 good bites today. Not all of them were big. Some of the fish were 3-pounders. I had a lot of bites for a big fish pattern." Baker's big bass weighed in a 9 pounds 1 ounce.
Lane wants to take it easy
"I had a pretty good day today," said Lane. "I'd like to catch 30 pounds tomorrow and just be able to cruise on Saturday."
Morgenthaler is hungry for the Classic
"My goal next year on the Elite Series is to make the Bassmaster Classic," said Morgenthaler. "It is such a phenomenal event. Of course, I'd like to make the Classic now instead of waiting until the end of next season. "I was fortunate today. I had a few good places and good fish. I almost wrote off one of the areas I fished. It came through pretty good today. Who knows when you fish in Florida? I could weigh just 8 pounds tomorrow. I'm not counting my chickens."