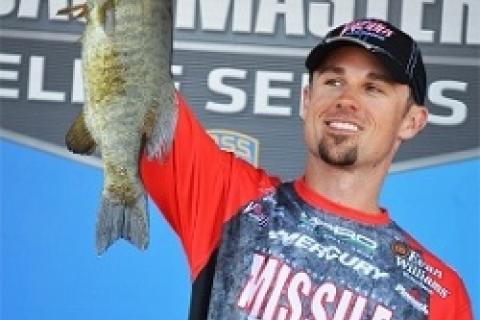 Mercury Marine pro John Crews stays focused on business.
Casual fans of pro bass fishing look at it as a fun diversion or perhaps a hobby. Those who understand that it is a professional sport won't be surprised to find out that one of the top stars on the Bassmaster Elite Series, Missile Baits pro John Crews, is immersed in the fishing culture and the business side of pro fishing year 'round.
During the interview for this article, Crews was in route from the home office for Missile Baits in Virginia, and heading to Knoxville, TN to pick up new batteries.
Crews finds staying busy in the fishing industry at a variety of levels throughout the year has brought him success both on Tour and in the boardroom.
"I kind of have a two-pronged approach to running Missile Baits and my career as a pro angler," said Crews. "I was fishing full-time for about 12 years before I started the company. That was fortunate for me. I knew exactly how much time I needed to prepare for an event, unlike someone with a business who was trying to manage it and fish as a pro for the first time. So having that under control is my first prong.
"The second prong is something I was kind of surprised by. It was the amount of crossover my fishing has with the business, and how much the business can help my fishing. On the water, I can think of what style of bait I may need or what might work, etc. I'll come back to the office and work on it to see if it is something, we can create.
"On the other side of that, I speak daily with tackle store owners, suppliers, distributors, fans, etc. They talk about what colors are working in their area or how they may fish one of my baits differently than I have before or they confirm ideas I've had about how to use bait. It is very beneficial.
Crews gets clobbered with requests
"I get hit up from every angle imaginable," said Crews. "Whether its anglers wanting product or to get on the pro-staff at Missile, or product requests from media, it never ends. "I did decide to have a certain routine for the pro-staff that works. The first year it was just Ish Monroe and me on pro-staff. Now, we have a one-time decision each year as far as who will be on our Bomb Squad staff. We stop accepting resumes for the year at the end of October and release the names of the anglers on our staff by late November. It has been very successful."
Growth is on the menu for Missile Baits
"I want to keep growing the company and make it as big as possible," said Crews. "It is very cool that we design products that help people catch more fish. We will not release a product just to say we offer it. It must catch fish or it isn't released. "We are continuing to gain retailers including, of course, many independent tackle shops. Look for us to keep gaining traction in retail outlets.
"We have a few very exciting projects in the works. If they turn out to be viable, they will be big news. We are starting to get to that point where people want to know what's coming next from Missile Baits. It is very exciting."