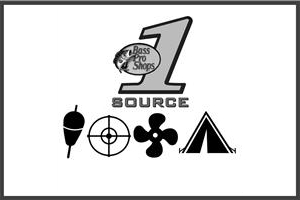 The main part of my seminar season is over, and it's time to go fishing! Yes, I'll squeeze in a turkey hunt, as well, but right now after this past winter, I'm ready to pursue anything that has fins! At the recent sport shows, one question that kept popping up was, "Hey, Jim, what is your favorite lure?"
Well, as most of you already know, my favorite lure is the one that is working on the day you ask me! But to put it in more specific terms, I thought about it, and I've put together just a few of my favorites -- ones that came to mind right away. I also found a new one that many of you will love, especially those of you who fish farm ponds, walk the bank or fish from a small boat. I think it may be one of those lures that is going to be a BIG hit. You're just going to be surprised how SMALL it is. Enough teasing you ... go get a cup of coffee, and let's get into this!
When it comes to bass fishing, I have a lot of lures that I really enjoy: ones that won tournaments or helped me with high finishes, as well as ones that have caught me some of my biggest bass while filming for Midwest Outdoors, as well as for my show, Hook and Hunt Tv.com. However, as I thought about this, I realized I had left out a couple of those lures on previous articles, so now I want to feature those. 
How many of you still throw a single spin or single bladed spinnerbait? Some of you older fisherman probably still do, but most have left them or forgot about them in an older tackle box. Well, one of my "old favorites" is a simple ½ ounce spinnerbait with a single gold Colorado blade -- plain old white and chartreuse skirt with no trailer. This was a work horse for me "back in the day," and when it comes to slow rolling a spinnerbait or letting this lure "helicopter" down next to a dock or bridge piling, this old lure is a hard one to beat. The more stained the water, the better this lure was. Places like the Illinois, Mississippi and the Ohio rivers saw this lure a lot from me, as it was a mainstay in covering water and getting an idea about how aggressive the fish were.
The swim jig has been refined over the years, and there are still fisherman that don't know exactly how to fish the lure or give much confidence to it. Being a jig, it's going to catch fish; however, how to use it is different than the standard jig approach. A swim jig is used exactly how it's described: You swim through and around cover. One of my favorite applications for it is fishing it in clearer water along weed lines when there is a slight breeze, as well as when the wind is blowing a little harder. I'm a fan of the ¼ ounce Terminator swim jig, which has a long shank VMC hook and very thin weed guard that is connected to what I feel is a very balanced head design. It rides over and through cover with a little bit of practice and hooks fish extremely well. In clearer water, I may use a small swim bait as a trailer, and in some cases, I also use the old twin tail trailer. This helps the lure to ride higher in the water column with less effort and has great action on the fall. There are a lot of great lures on the market today; however, some of the old and simple standbys will be hard-pressed to be outdone.
Now one of the new offerings on the market is by one of the oldest and most consistent producers of quality lures there is. Rapala, in my opinion, has another winner on its hands with the release of the new deeper running ultra light crank. Years ago, I used to use smaller crank baits when things got tough and I realized that if you just want to catch fish, there is almost no better way to do that than with a small crankbait. With the strong braided ultra thin lines of today, you won't lose hardly any of these lures, and they are capable of getting a little deeper and really getting the attention of largemouth as well as smallmouth and spotted bass. They're also a great lure to walk the bank with, as any rocky area will become vulnerable to attach from this lure and will cause bass to "hammer" it, mistaking it for a small crawdad or nervous minnow. I really like this lure because it will give bank anglers a chance to get a small bait deeper, which I honestly believe when used in the proper way will get you more bites and from bigger bass than you might expect.
Throwing the ultra light crank on a northwest sunny bank on a spring day when bigger bass are moving shallow but still have a slower metabolism due to the colder water could be the exact lure to get you that big bite to start off your year. Small lures can and will catch big fish. Just think about this: A six pound bass in a small, two-acre pond has to eat, and she's not going to wait around all day for a big meal. Something small and vulnerable comes by, and that will be her next meal -- if only a snack!
Some of these lures you may already have and some may be packed away in boxes you have not looked at in a while. But as I was writing this, these were some of the lures that first came to mind and honestly are tied on rods and ready to go. 
Thank God it's spring. Hook up the boat, walk the bank, whatever it takes. Load up your tackle box with high hopes and your favorite baits. Always remember, lures have their time and place, and they will always be merely tools to get a job done.
by Jim Crowley