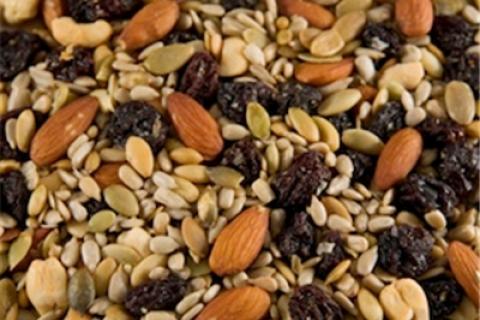 It can be hard to eat well when you're on a backpacking, hunting or fishing trip. Typically, the most abundant convenient and cheap grub options during your travels involve mountains of sodium and a deep fryer, which can leave you feeling lethargic and sick to your stomach. Your limited options can make it pretty tough to make good food choices, not to mention the fact that your focus is on the actual hunt, not what snacks you'll be eating. You're in the hunting zone, not the nutrition zone.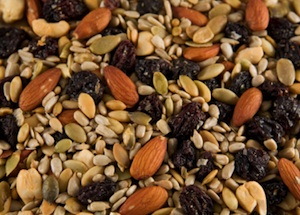 While it's easy to swing by the gas station and grab a bag of chips, some snack cakes and an energy drink, it can be just as simple to make better, healthier choices that'll keep you energized and fresh, so long as you hit the grocery store before your trip and know which foods to choose.
Check out our list of good convenience foods, which will travel well and keep you energized on your sporting trip, below:
Jerky. We're not talking about Slim Jims, which include an ingredient called "mechanically separated chicken." Instead, pick up some all-natural jerky; beef jerky, buffalo jerky and turkey jerky are all good options. You might even consider investing in a food dehydrator so you can make your own.
Trail mix. Trail mix is a delicious, healthy food for outdoor sports, and you can customize it to include all your favorite treats. We suggest adding unsalted nuts, oats, granola, sunflower seeds, dark chocolate and unsweetened dried fruit.
Packaged tuna. Packaged tuna travels well and packs a powerful nutritious punch with its healthy dose of protein, omega-3 fatty acids and B vitamins. Eat it on whole-grain crackers or bread, or all on its own with a sprinkle of salt and pepper. Also note that to keep your load light, you should opt for a pouch of tuna rather than a can.
Fruit. Both fresh fruits and dried fruits are great choices, though dried fruit will keep for longer and isn't as prone to bruising. When choosing dried fruits at the grocery store, check labels to find those that don't have added sugars to get the healthiest pick.
Energy bars. Not all energy bars are created equally. Read the labels carefully to be sure you're not buying a glorified candy bar, full of sugars and oils. Clif Bars, LUNA bars and

LÄRABARs tend to be the healthier options.
Bring these foods along on your outdoor backpacking or camping trip to boost your energy, to keep your body feeling good and to give you a better overall experience.