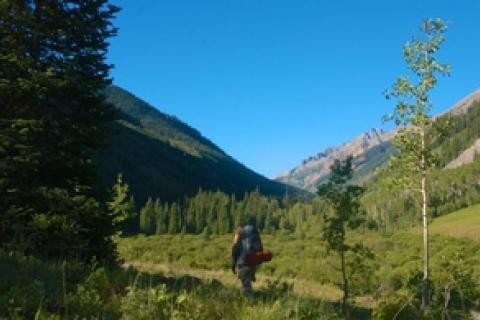 The big backpacking trip is coming up, and of course you packed your tent. But did you bring your toothbrush? Here are 10 easily-overlooked (but do-not-forget!) items to put on a list before you head outside on your next adventure.


Headlamp — It's small and if you're packing during the day, easily forgotten.


Extra batteries — Store a headlamp with the batteries it uses and grab an extra set when packing. Headlamps can turn on accidently, draining batteries before they are needed, and being in the woods without

light, while doable, is not idea


Hat — You already know that in cold weather you lose most heat through your head. But a hat is easy to forget during warmer months. A snug fleece hat or a Buff headwear is requisite year-round in the mountains and will be great in a sudden cold snap or rainstorm.


Toiletries — Contact lens solution, a cut-off toothbrush, ibuprofen, lip balm and anything else you need to stay healthy and ready for the day are must-brings even when you go ultra-light.


Cooking fuel — Of course you grabbed your stove, but did you check your fuel levels? Make sure the white gas is topped off or that you have enough canisters to last for your trip. And are those half-full canisters really half-full?


Light gloves — Even in summer, a pair of light gloves can make the difference between comfort and cold. Pack a pair for every backcountry trip unless the temp will never drop below 60 degrees at night.


Extra plastic bags — Just a couple small plastic grocery bags can be helpful in myriad ways for garbage, dirty clothes or wet items. They take up almost no room in a pack.


Charged camera battery — Forget to charge the battery and a camera quickly becomes a useless brick. Store your charger with your camera to remind yourself to charge it before leaving home.


Extra matches and lighter — These are so essential that it's important to bring spares. Stash waterproof matches with your cooking or stove kit for emergency, but don't rely on them for your primary source of fire and you'll always be prepared.


Extra car key — Hiking solo? Pack an extra key deep in your gear. If you are with companions, make sure to give a spare to a friend. Or you can duct-tape a spare somewhere secure and hidden under or in your car that your fellow hikers know about in case of emergency.



TIP: One trick to ensure you've got everything you need — pack a small bag, such as a stuff sack or Ziploc, a couple days or even a week before your adventure. Keep the bag by your sink at home and use it for everyday needs (just be sure to replace items after using). If you need something that isn't there, add it before leaving on your trip.