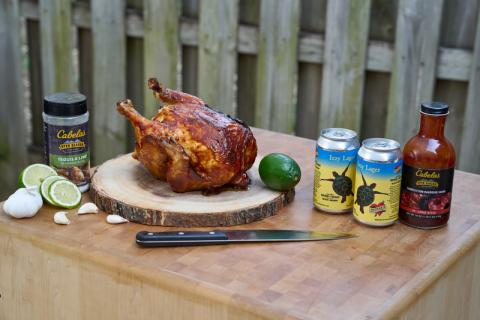 Grilling Hardware
Sauce Brush
Meat Probe—included with Cabela's Pellet Grill
Ingredients:
Whole chicken (you make as many beer can chickens as can fit on your grill... just repeat the recipe) in the range of 3-5 pounds
Cabela's Seasoning: Tequila Lime Blend, Pecan Honey or SPG
Olive Oil
Beer in the can (your favorite lager will work just fine)
Pro tip: if you plan to make multiple beer can chickens, select birds that are roughly the same size. This way they will cook in the same amount of time.
Preferred Pellet Options:
Cabela's BBQ Wood Pellets—Hickory, Competition Blend or Mesquite
Cooking Style:
Grilling/Smoking
Process:
Remove whole chicken from bag. Pat dry.
Pour olive oil onto chicken, coating its skin.
Liberally apply rub. Coat the chicken's body. Insert meat probe into the thickest part of the thigh.
Place chicken on top of open beer can. Can should be 3/4 full.
Insert meat probe into the thickest part of the thigh.
Preheat grill to 325 with lid closed. Allow 15 or 20 minutes for grill to come to temperature.
Place beer can chicken onto grate, sitting upright so as not to spill the beer. Close lid and allow to cook for an hour.
After an hour, brush apply barbeque sauce to chicken with your brush.
Close lid and cook until internal temperature reaches 165 degrees F. This will likely take around a half hour, though the exact timing will depend on the size of your bird.
Once it reaches 165, remove from grill and take chicken off of the beer can. Allow to rest.
Carve and enjoy!