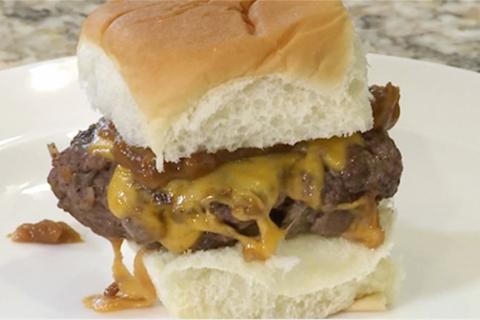 Our outdoor chefs David Draper and Ben Fleischacker give us some ideas for how to incorporate wild game into your party celebrations. The mild flavor of ground elk and the tanginess of French onion soup come together in this perfect-for-a-party slider recipe. They cook quail sliders and elk sliders along with a pheasant cheese ball.
These wild game recipes will be sure to impress your guests at any dinner party.
Prep Time: 5 minutes,   Cook Time: 10 minutes,   Servings: 4-8
Ground Elk & Cheese Slider Recipe Ingredients
1 lb ground elk burger
1 packet French onion soup mix
¼ cup beef broth + 1 cup
2 tbs olive oil
1-2 tbs flour
8 slices cheddar or Colby jack cheese
8 King's Hawaiian Rolls
Preparation Directions
1. In a large bowl, mix together the ground elk burger, half the packet of French onion soup mix and ¼ cup of beef broth. A stiff spoon works, but it's best to get in there with your hands and really get everything mixed up well. Once the burger is mixed, press out eight patties, roughly a little larger than the slider rolls.
2. Pour olive oil into a cast-iron skillet set over medium-high heat. Once the oil is hot, but not smoking, place the elk patties in the pan and sear. Use your thumb to make a small indentation in the top of each patty, which will keep them from blowing up into a meatball. Place a lid on the cast-iron skillet and let cook for a minute or two. Remove the lid and flip the patties. Place a slice of cheese over each patty, and let cook for 1 minute, covered, until the cheese is melted. Transfer the patties to a plate to rest.
3. Deglaze the pan by pouring in the remaining broth, minus two tablespoons, and stirring, scraping up any browned bits from the bottom. Add the rest of the French onion soup mix and stir. In a small bowl, whisk together the flour and two tablespoons of broth to make a slurry. Stir this into the broth and simmer, stirring until a thick gravy forms.
4. To assemble the French onion elk sliders, slice the rolls in half and top each one with an elk patty. Place a spoonful of gravy over the patty and enjoy.
Click to print or download the Elk & Cheese Slider Recipe
Watch video: Quail & Elk Sliders and Pheasant Cheese Ball