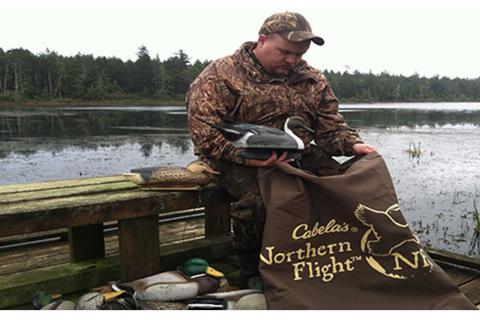 The Last Decoy Bag You'll Ever Buy
I've owned a lot of decoy bags since my first duck hunt in 1974.
In fact, I'd hate to think how many decoy bags I've owned and lost or ruined or sunk over the past four decades.
Some of these plastic-toting packs have been quite well-designed and have worked exactly as intended; others, well, I'm not overly upset I don't have them anymore.
So, jaded man that I am, I unwrapped Cabela's Northern Flight Floating Decoy Bag with mixed expectations.
At first glance, I realized I'd had a bag similar to this; the only decoy bag of its kind I actually used on a regular basis over the course of several seasons, until, the garage mice found it.

Visually, I like the bag's overall neutral brown color, as well as the faded fall cattail tan of the Northern Flight logo and insignia. Both fit perfectly into the waterfowler's world.
I can use the empty bag to cover an outboard motor, as a camouflaged seat or to completely conceal a fidgety retriever.
The bag features two strongly-stitched handles, top and bottom, on the logo side. No longer do I have to search for a hand-hold as I'm trying to throw a decoy bag from truck to boat or truck to ground.
If you've watched a traditional all-mesh decoy bag sink out of sight after throwing the final block, then you'll appreciate the fact this floating bag actually floats.
The 3-inch shoulder straps are amply padded, and each sports a D-ring at the top, a nice feature for waterfowlers who use lots of carabiners for attaching things to themselves.
The waist belt is also sufficiently padded, and measures a comfortable 4-1/2 inches.
The back padding is ribbed, allowing for airflow without sacrificing comfort, and measures a full 22 inches high by 15 inches wide at the small of the wearer's back.
A 10-inch-wide rubberized mesh bottom allows for great drainage.
The neck features a grommet-and-drawstring closure system.