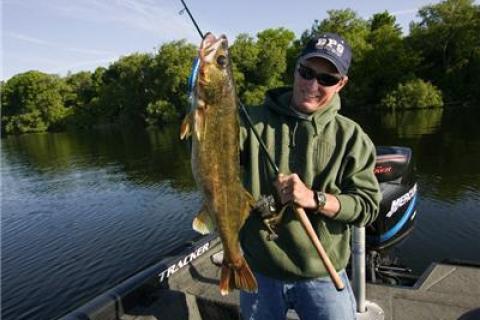 A walleye's metabolism rises with the water temperature in summer and that means they need to eat more, not less.


Most walleye anglers fish with leeches and minnows on Lindy rigs in deeper water during this time of year. But, also try finding them where they are suspending with baitfish or prowling around on shallow reefs, weedbeds, shorelines, and points. These are all primary locations for catching walleyes in summer.


Using tactics you would use to catch bass will put you on active walleye quicker and help you put more of them in the boat during summer.


A plate full of hot, fried walleye will help make that summer cookout even better. Looking for a different way of fixing walleye? Try one of these Bass Pro Shops customer submitted walleye recipes.
My personal favorite is Italian Walleye with Pasta by: Rick Hotchkiss.


Italian Walleye With Pasta Recipe
Ingredients:


Walleye fillets (4-6)
Italian bread crumbs flour
Several eggs
Parmesan cheese
Salt & Pepper


Start by making pasta (spaghetti is Rick's favorite) drain and set aside. Mix 4 parts bread crumbs to 1 part flour, season with parmesan and salt/pepper. Double dip fillets in eggs and flour/bread crumb mix fry in skillet w/olive oil/butter till golden brown at same time sauté peppers and onions.


By Larry Whiteley, Host of the award winning
Outdoor World Radio