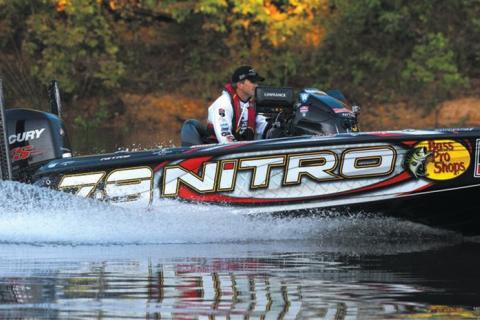 One of the keys to being successful when fishing walleye is finding structure that fish are relating to. It has been more than a decade since SD cards preloaded with lake maps were put on the market. They quickly proved to be a valuable tool in locating breaks, points and humps. These electronic maps also allowed anglers to see their current position on their GPS in relation to the contours of the lake.


Now lake mapping has evolved to a whole new level with Lowrance electronics and their mapping program plus online service and web viewer called Insight Genesis. With Insight Genesis I am able to expand upon off-the-shelf maps by making custom maps for the areas I fish. If you're thinking about purchasing a Lowrance unit with this capability, look for the Gen3 Insight USA Fishfinder/Chartplotters. Bass Pro Shops has several top rated units.


The Insight Genesis is transforming the Lowrance HDS charting experience and its designed for use in both salt and freshwater.



Watch Gary Parsons video demonstrate how easy it is to get the most detailed maps.


The Process for Creating Custom Lake Maps
Creating custom maps using a Lowrance Gen 3 Insight USA unit is a simple process. I begin by inserting an SD card into my unit. With a few clicks on the screen, it begins recording the bottom of the lake. I then drive my boat in a grid-like pattern over the portion of the lake I would like to record, keeping the speed at no more than 4-5mph.


When I get home I put the SD card in my computer and upload the information to the Insight Genesis program. The program will generate a personalized map that is then saved back to the SD card. The next time I go fishing, the map is ready for use.


The neat thing about this program is that it will pick up on the slightest changes in the bottom. I am always amazed to see what the "big picture" really looks like. It is not uncommon for me to find humps and points on the map that I never knew existed!
With a premium subscription, I am also able to create map overlays that show bottom hardness and vegetation. These are great for finding transitions from a hard bottom into mud.


The map shows light colors to indicate a soft bottom and dark colors to indicate a hard bottom.


Not only will these customized maps allow you to follow edges while contour trolling, or put you right on a hump for jigging, they can also show you where to find weeds by placing a green overlay on the map.


The Lake Mapping Process Also Works for Ice Fishing
The custom maps can also kick your ice fishing up a notch! During the summer and fall I will map out areas that I like to target in the winter. As soon as there is safe ice, I will mount my Lowrance to an ATV or snowmobile. I am then able to drive straight to the spots I mapped out earlier in the year. 


The contour map, along with the bottom composition overlay, allow me to hone in on areas that produce winter walleyes such as rock reefs, sunken islands, and hard gravel break lines. On days that I'm looking to target weeds for panfish, the vegetation overlay allows me to find them quickly, which means less time drilling holes and more time fishing!



In this Video: Gary Parsons demonstrates just how easy it is to get the most detailed maps of your favorite fishing spots using Lowrance Gen3 Fishfinder/Chartplotter for Insight Genesis Custom Lake Maps


Editor's Note: If you have questions or comments on this or other articles of mine you may have read, contact me through the website The NextBite.