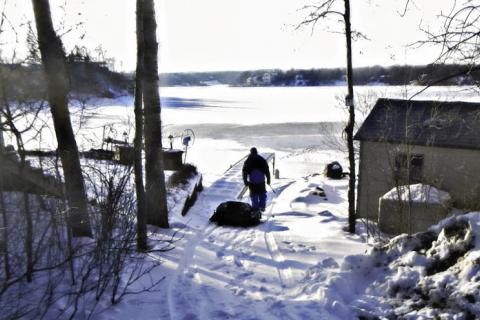 Small lakes can provide excellent ice fishing opportunities early in the winter! While it is tempting to head out on the lake as soon as it freezes over, I like to wait until there is 4-6 inches of ice. Even then, if there is any question in your mind about the thickness, you should use a spud to constantly check the ice depth as you go out. If it is less than four inches, you should turn around and come back when it is safer.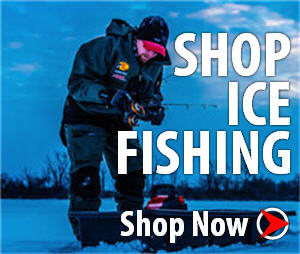 Once it is safe to head onto the lake, there are a few key areas where walleye tend to congregate this time of year. I like to focus on deep flats with prominent points, specifically where the point bottoms out as it enters the main basin. This flat could be anywhere between 15 and 25 feet deep and is usually near the deepest water in the lake. While some lakes may have a several spots like this, most only have a couple of these areas. If you can find one with weeds on top of it, that is even better!


The walleye will slide up on the points usually in the afternoons and evenings, but are more likely to be roaming the flat in the morning. Depending on where the forage is located, they may relate tight to the base of the point, or they may scatter over the flat.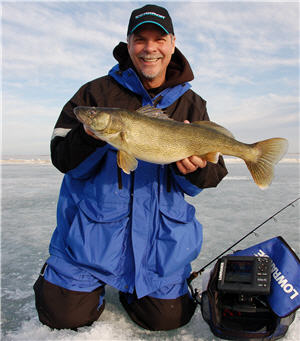 Another place to look for walleyes is in large bays with large amounts of weeds extending out into deeper water. Concentrate on green weeds, especially if they are sporadic. The walleye like to follow pan fish into these weeds.
A great tactic to use this time of year is ice fishing tip-ups or JT Outdoors Hot Boxes, you'll want at least one set right at the base of the point. Then start spreading them out, making sure to cover the flat thoroughly.


Since the walleyes will most likely be holding tight to the bottom, be sure your lines are no more than a foot off the bottom for the best chance to get your Next Bite!


Editor's Note: If you have questions or comments on this or other articles of mine you may have read, contact me through the website The NextBite.