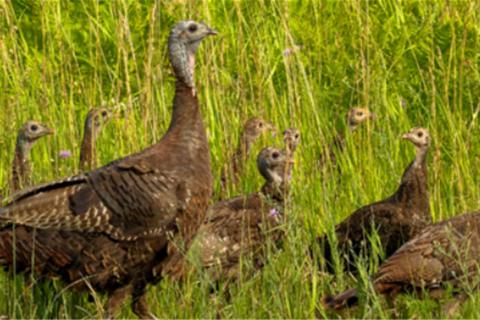 A match made in conservation heaven. Bass Pro Shops and the National Wild Turkey Federation have influenced wildlife conservation and our hunting heritage like no other over the past four decades. Thanks to Bass Pro Shops founder and CEO John Morris, the NWTF's Save the Habitat. Save the Hunt. 10-year initiative has been a resounding success. This plan will
enhance or conserve more than 4 million acres of wildlife habitat, recruit more than 1.5 million new or lapsed hunters and open access to more than 500,000 acres for hunting by the end of 2022.
Morris and Bass Pro Shops have provided more than $6 million to the NWTF for conservation and hunting heritage efforts across the country.
"Thanks to Johnny Morris, Bass Pro Shops and Cabela's for continuing their unending support of conservation work across the country," NWTF CEO Becky Humphries said. "Bass Pro Shops' culture of promoting habitat and wildlife conservation is something that all outdoor companies can aspire to emulate."
Bass Pro Shop's' commitment to connecting new audiences to the outdoors, conserving wildlife and habitat and advocating for sportsmen's rights aligns with the NWTF's mission to conserve the wild turkey and preserve our hunting heritage. In recent years, Bass Pro Shops/Cabela's and the NWTF have partnered to:
Improve wildlife habitat in a 13-state region in the Midwest, Mid-Atlantic, South and Southeast thanks to a Cabela's Outdoor Fund Grant
 
Name the Tracker Off Road vehicle as the official ATV of the NWTF
 
Build the Palmetto Shooting Complex in Edgefield, South Carolina, that has provided shooting sports opportunities to thousands of youths and new shooters
 
Create Roundup Months at Bass Pro Shops and Cabela's, a program that has generation hundreds of thousands of dollars for wildlife conservation work
 
Offer a $25 Bass Pro Shops promotional gift card for new and renewed NWTF members
Bass Pro Shops investments in the NWTF's youth program, JAKES (Juniors Acquiring Knowledge, Ethics and Sportsmanship), began 30 years ago and led to other critical outreach
programs like Women in the Outdoors and Wheelin' Sportsmen. Today, the NWTF's outreach efforts have expanded to new audiences and opportunities through R3 (hunter recruitment, retention and reactivation) programs.
The NWTF has a proven track record of leveraging funding at a minimum 5-to-1 match ratio, and with the support of Bass Pro and Cabela's, this partnership will continue to address critical wild turkey conservation needs that also benefit wildlife habitat, forest health and water conservation to meet the challenges that lie ahead.