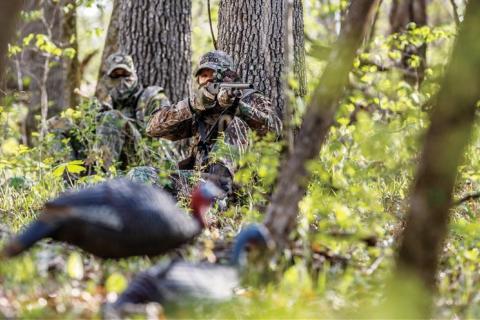 The purpose of a turkey vest is to securely, comfortably, and accessibly carry the essential gear needed for turkey hunting.  In selecting "essentials" there often seems to be a miniature Boy Scout standing on one shoulder telling you, "Be prepared." While the chiropractor clicks their pen on the other, reminding you, "Go light." In between, you end up a quivering, indecisive mess.
Turkey vests have developed over the years from being a simple layered vest with a few pockets to having a variety of useful features that keep everything you need within easy reach to minimize movement. Some sport different sized pockets for organizing all kinds of hunting gear. Many now have patented vest/chair systems with a dropdown, self-supporting seat, a designed to give you the freedom to sit comfortably and in an excellent shooting position, regardless of terrain.
Vests today have a place for every hunting gear essential important to any turkey hunter.
So stop worrying; we are here to save your sanity.  Don't leave home without these 15 turkey hunting essentials and the hunting vest gear check list and prepare to take your longest long-beard yet. Any extra additions are between you and your chiropractor.
15 Turkey Hunting Vest Gear Essentials
1. Turkey Calls
A mouth call or two might have you covered, but there are days when nothing but the boat paddle will work.  Only bring the turkey calls you are confident with. A piece of sand paper, some chalk, an extra striker, and some spare rubber bands will keep your serenade on key.
2. Hunting Mask & Gloves
Include at least one face mask like RedHead Scent Control 3/4 Camo Face Mask or the RedHead Form Fit Spandex Scent Control Camo 3/4 Face Mask both sold at Bass Pro Shops and one pair of gloves. Two is better.
3. Hunting License
Zip it into an inside pocket before opening morning and leave it there. Check out the Game & Fish Information at Cabela's here.
4. Shotshells
Pack three shotgun shells for the gun and two as reserves. If you go through five shells before heading back to the truck, perhaps you need to take a break from shooting at live birds and hit up the range.
5. Hunting Knife
It may sound like sacrilege, but you should consider one with a blaze orange handle. Your hunting knife is rarely exposed when a bird is within range and the bright handle keeps you from donating yet another blade to the forest floor.
6. Camo Butt Cushion
The most important factor in killing a turkey is your ability to sit still. You can't sit still if your rear is going numb.  This is such a standard, it now comes built in to most vests like the RedHead Striker Elite Turkey Vest that comes with flip-down foam seat.
7. Turkey Decoys
Turkey decoys have become sophisticated, but simple collapsible decoys like the highly rated by customers Avian-X LCD Lifelike Jake Turkey Decoy or silhouette dekes that easily ride in your vest still earn their keep. They'll grab a tom's attention and keep him distracted as you settle the bead on his head. Don't forget to pack the stakes.
8. Bug Repellent
Remember the importance of sitting still? Buzzing mosquitoes and crawling ticks make this impossible. Even if you think you can deal with the itch and annoyance, there's a very real danger in getting bit by these pests. Mosquitoes and ticks can carry West-Nile Virus, Lyme Disease, and may even cause you to develop an allergic reaction to red meat. (That's right, no more bacon!)
 
Carefully treat your hunting clothing with Permethrin to protect against ticks. Use a repellent spray or Sawyer Permethrin Insect Repellent to keep irritating mosquitoes at a distance.
9. Flashlight or Headlamp
Many hunters swear by a strict diet of moonlight and woodsman ship to make it to their blind.  These are often the same hunters that insist the stream crossing was "around here somewhere." Even if you don't use it every time, a reliable flashlight or headlamp is an essential piece of gear. It's still up for debate, but many believe that red or green lights are less likely to spook turkeys on the roost.
10. First Aid Kit and Survival Kit
A first aid kit of some kind should always have a place in your vest. You can allow the terrain and extent of your hunt to dictate the necessary survival gear, but keep in mind that no one ever plans on getting lost—until they do. A snake bite kit would also be a wise addition in many parts of the country.
11. Water Bottle or Hydration Pack
Dehydration can drain your energy and focus and you're going to get thirsty. Hunting is very physical and once you feel thirsty you're already 1-2% dehydrated.  You don't want mirages of frosty beverages because thirst can throw off a hunters aim, and cutting a hunt short to walk dry-mouthed back to the truck is no fun. Stay hydrated while hunting even if you're constantly on the move out in the field.
12. Compass, Map or GPS Unit to Reach Your Destination Without Getting Lost
When the fog rolls in even your backyard looks like another planet.  Remember that survival gear? Let's keep it packed away. If you don't know how to use a compass, here is a link to Demystify Map and Compass With Easy Orienteering Tips Anyone Can Use.
13. Hunting Toilet Paper
Nature calls—even when you're calling in nature. Grab a roll of the biodegradable and septic-safe toilet paper. For fun, look for the camo kind and tuck some in your vest. You'll avoid spooking birds—and other hunters.
14. Dry Wool Hunting Socks
Even if you managed to find the stream crossing, dry hunting socks at lunch are huge morale boosters. Cabela's has a popular Men's Medium-Weight Wool Boot Sock that will keep your feet warm and dry throught the most grueling hunts.
15. High Energy Hunting Snacks
Clucks and purrs just don't sound the same accompanied with stomach growls. Throw in your favorite trail mix, granola bars, candy bar, energy bars, PB & J or meat snacks like the popular Bass Pro Shops Johnny Morris Signature Steak Strips. Call it cruel and unusual, but there's something special about chewing on turkey jerky while working a box call.

Bonus: Good Luck Charm
Leave a comment below to tell us what good luck charm rides in your turkey vest … or what you think we forgot!