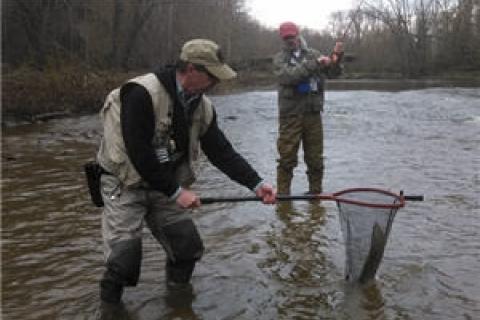 The southern shore of Lake Erie that stretches across portions of Ohio, Pennsylvania and New York, known by many anglers as Steelhead Alley, provides an exceptional opportunity to fish for quality-sized steelhead.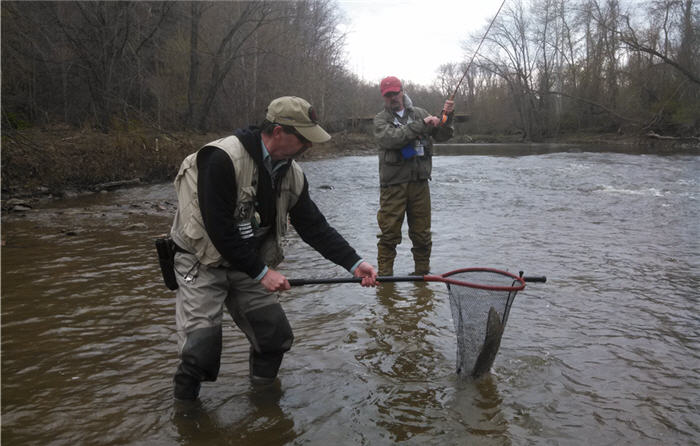 When the water is low, anglers can find success using smaller flies and lighter fluorocarbon tippet.
The best condition for taking these fish are good flows with a hint of color.  Sadly, this is often the exception rather than the rule.  The watersheds are fairly short, often shale bottomed, and drain off quickly following periods of rain and snow melt.


Since these conditions exist so often throughout the fall and early winter, I asked my good friend Tom Ference, a former fly fishing guide on Lake Erie tributaries, to share some tips when steelhead streams flow low.


The deeper pools will hold the greatest number of steelhead; the fish tend to be less spooky, due to the depth.  If fishing pressure is light – more common during the work week or inclement weather – these areas should be checked out first.

Keep in mind that flows can get low enough that normally productive pools can be reduced to where there's little current, which hampers getting a consistent drift through them.


Runs/riffles that have enough water depth to hold fish, often do.  Many anglers overlook these holding spots.  The fisherman with a sharp eye can spot either a hiding fish or at least recognize a ledge or slot that may contain fish.  Concentrate on this type of water when the fishing pressure eliminates the more obvious water.


Tailouts – the extreme lower end of pools – hold fish and should not be ignored.  These fish will be the spookiest; utmost care is needed on your approach and in your presentation.  If a fish is spooked from this type of water by another angler or yourself, often the best approach is to have a seat on the bank for several minutes and wait for it to return.


When the water is low, clear adjustments need to be taken when choosing a fly and terminal gear.  Generally, smaller flies and lighter fluorocarbon tippet are required.  A standard set-up might include a small egg pattern or nymph pattern fished as a dropper underneath a Stimulator dry fly or some other high floating fly.  Most of the strike indicators on the market will spook these wary fish and prevent them from taking.  A yarn indicator works as well, however, steelhead have been known to take the dry fly under these conditions.


Fresh run fish will sometimes chase an aggressively fished streamer but not all that often by fish that have been in the stream for an extended period.  Ference's favorite pattern to use when trying this method is a Clouser-style fly streamer constructed with an abundance of gold crystal flash.  Fish it fast.


Another streamer technique to use under low-water conditions is to fish a long line downstream to fish that are hanging in the tailouts.  A fly to try using this technique is a lightly constructed streamer tied with several strands of flashabou fly tying material as the wing.  As it is lightweight, it will hang just above the watching fish, tantalizing it with its swimming movement.


Check out this article for more information about tying and fishing egg flies for steelhead trout at Bass Pro Shops 1Source.