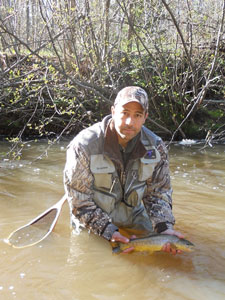 If you are lucky enough to live in a Wisconsin county that has early season regulations (catch and release), getting out and wetting a line the first weekend in March could be quite an adventure. (These special regulations do not apply to spring ponds, ponds, lakes, Lake Michigan tributaries, major Green Bay tributaries, all other tributary streams, rivers and ditches to Green Bay upstream to the first dam or lake, or streams flowing into Lake Superior and their tributaries upstream to the first impassible barrier.) Early season fishing in Wisconsin rarely presents the fly fisherman with large numbers of trout or the biggest of fish but being able to wade the river and fly cast makes this opportunity more than welcome.
Anglers need to remember that during this transitional this time of year, trout are not super aggressive when they decide to feed. Precise casts, subtle presentations and small flies increase your chances of hooking up with fish. Patience above all else is necessary when fishing in the early trout season. Working runs or pools slow and methodically is the key to contacting fish.
Another good point to remember is that water conditions during this time of year are a little darker and deeper than normal so fish have a tendency to be found in long runs or deep pools rather than tight to structure. Be careful how you approach the edges of the river and try to keep your feet out of the water if possible so that you do not spook trout.
One last thought to keep in mind before this early season starts is that a quick check of you waders could save you from a disaster of a day. Float your waders in the bath tub and check the boots (or stocking feet), seams and knees. In this check don't only look for the obvious wet spots. Look for cracked edges on boots, thinning soles on neoprene booties or the stitching unraveling. These are all signs that you waders could breakdown on your 1st fishing adventure and make for a very cold and long walk home.