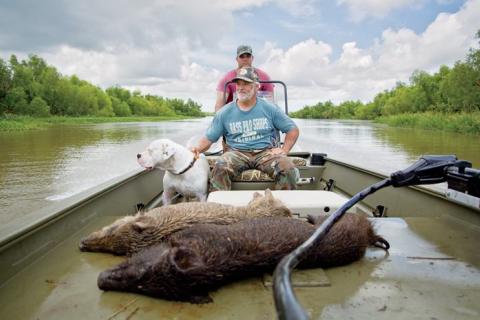 Heat, humidity, mosquitoes, powerful thunderstorms – not the conditions that make many folks think, "Let's go hunting." However, if you just need to get out and apply your predatory skills … and burn some powder … summertime hunting opportunities do exist. In fact, there's a whole lot of fun to be had that you'll have nearly to yourself!
Hunting Coyotes
Coyotes are a challenging and rewarding hunting opportunity whenever you decide to go after them. Those whitetail fawns, young game birds, and nesting waterfowl will thank you, too. Nearly without exception, coyotes have no season and no limits. However, you may need a license, so be sure to check the regulations where you decide to hunt.
Summer hunting of coyotes is different than any other time of the year. However, even though food is plentiful, the use of calls that mimic feeding opportunities can still bring in the 'yotes. It's estimated that whitetail fawns may comprise as much as 80 percent of the coyote diet in spring and summer, so fawn distress bleats can be highly effective.
Because they have pups in the den and are in their family groups, coyotes are especially territorial during the summer … and they are highly vocal to let other coyotes know the boundaries of those territories. This helps the summer hunter in a couple of ways. First, you can scout by getting out in the countryside at dusk and dawn and listening. You can also use coyote calling to bring in animals that are defending their territory from an unknown intruder.
Whether they come to your call because of hunger, curiosity, or territorial defense, it doesn't matter as long as they show themselves in range. In any case, you're going to need a good electronic predator call with an ample supply of calling options.  Check out the FOXPRO Hi-Jack Electronic Game Call System and the FoxPro Shockwave Caller, both are sold at Bass Pro Shops.
Many areas allow you to hunt coyotes at night which is an advantage because it's when they are most vocal. A spotlight with a remote switch mounted to your firearm makes night hunting for predators possible. The Pursuit Predator Light Kit kicks out 600 lumens to more than 300 yards range.
Hunt Hogs in Summer
Wild hogs also offer year round hunting opportunity. Hunting them in cover is even more challenging in the summer because the vegetation is so thick. You'll need to approach very close to see them. In the heat of the day, hog stay deep in shadows and dense cover to avoid the heat. Nearly all feeding and movement happens at night.
The way to hunt hogs, especially during the warm months, is to bait an area and set up an elevated stand nearby. Use varmint hunting lights, night vision, or thermal imaging optics to take them when they come in.
 The meat from small to mid-sized wild hogs is delicious and should not be wasted. However, handling the meat in warm weather requires diligence and special considerations. It all starts by having a really good cooler on hand. Most well-known of the premium coolers is the Yeti Tundra 125 Cooler, but another option is an actual powered portable refrigerator/freezer. When you shoot a hog, get it gutted, skinned, cut up, and into the cool as fast as possible. You'll enjoy the results for months to come!

Tip: Beginner to Intermediate Level Hog Hunting
Summertime Pigeon Hunting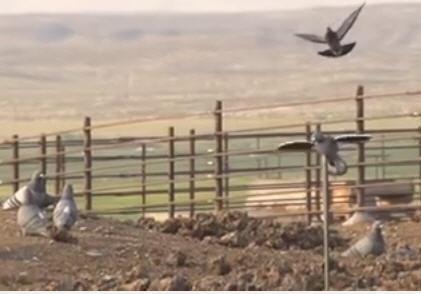 Dove decoy luring in pigeons
If you're a wingshooter at heart – especially one who likes high-volume, no limits shooting, but without traveling to South America – summertime pigeon hunting is a great close to home option. Feral pigeons are one of the most underrated and overlooked hunting opportunities in America. For those who are into waterfowl hunting, the similarities are tremendous – except for the fact that you can hunt pigeons year round, and there are no limits.
 Most feed lots and grain mills will be especially happy to have you come and shoot the birds they consider "flying rats", but of course you must ask for permission to hunt.
Depending on the location and situation, waterfowl hunting gear including layout blinds much like the Cabela's Northern Flight Northern Elite Layout Blind and spinning wing decoys like the Lucky Duck Lucky Dove HD Motorized Dove Decoy work well for hiding from and luring in feral pigeons.  Tip: Hand painting dove decoys to a darker gray color is a great way to build a core spread for hunting pigeons. Then as the shoot progresses, you take some of your downed birds, prop them up and add them to your spread.
It's not uncommon to shoot 100 or more pigeons in a single hunt, but the birds become wary quickly and it gets as challenging as any public land duck hunt very fast!
Hunting Prairie Dogs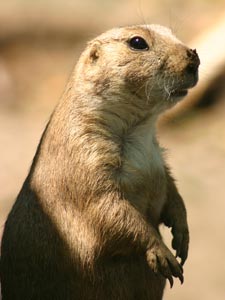 The western and prairie states offer fantastic summertime hunting opportunities for prairie dogs. Ranchers need prairie dog populations controlled to manage the damage they do to both hay fields and grazing areas. If hunters don't do it, they will find other methods to control prairie dog populations.
The fun and challenge in hunting prairie dogs is in long-range precision shooting. With the right equipment and a good bit of skill, it's possible to take prairie dogs at 400, 500, 600 yards and beyond.

Tip: Varmint Hunting: Are You Ready for Summer Shooting?
 Besides a good small-caliber rifle and a big supply of ammunition, the most important equipment for hunting prairie dogs are top-quality optics. You need to be able to clearly see the rodents that are no more than 12 inches long at those extended ranges. Binoculars such as the Cabela's Intensity HD Binoculars, a quality spotting scope like the Cabela's CX Pro HD Spotting Scope and high-magnification rifle scope are all required gear for successful, efficient prairie dog shooting.
As much fun as hunting coyotes, hogs, pigeons, and prairie dogs is on their own, they're also great practice for big game, small game, and bird hunting when the seasons begin rolling around in September and beyond. So get out there and HUNT this summer!