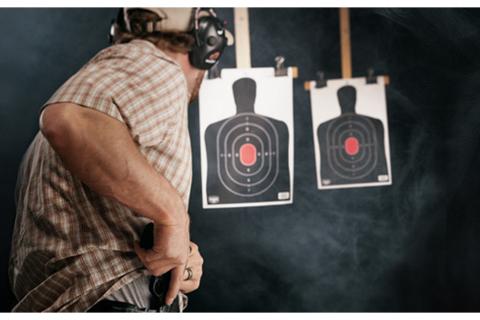 You go to great lengths to minimize threats to your life, but sometimes a deadly situation is unavoidable. While every scenario is unique and requires personal decisions, having a proper handgun education, training, equipment and practice is crucial.
Handgun Education Resources
Handgun laws vary widely by state – and even by county or city – making local law enforcement an invaluable resource. Officers will be able to provide you with information on how to purchase a handgun, local handgun laws and the requirements to obtain a concealed handgun permit, and in some cases will recommend a training program. It is your responsibility to be educated on, and to obey, all laws at all times, and local law enforcement is the ultimate source for this information. If you're traveling, make sure you contact all applicable law-enforcement agencies before entering their areas of jurisdiction.
Concealed Handgun Training
Hands-on instruction will build the fundamental knowledge you'll use in both practice and real life. Many concealed-handgun applications require a certificate of training from a licensed instructor. It is important to note that this is the minimum amount of training required, and seeking out additional training will improve your skill sets. Many instructors who teach entry-level classes also hold intermediate, advanced and specialized courses. These types of courses build upon your basic knowledge, expanding both your physical and mental skills.
Finding the Right Handgun Equipment for You
Every person and every situation is different, which is why there's such a wide range of gun equipment available. Very rarely will you see two people with the same handgun, holster and accessories – there is simply no universally right answer. You need to select a setup based on your personal situation. We recommend swinging by your local Cabela's store, where our Outfitters will help you become familiar with the different styles of handguns, gun holsters, ammunition and accessories. Your handgun instructor will also be able to provide personalized advice, but ultimately you'll need to decide what equipment is right for you.
---
Practice Your New Handgun Skills Safely
Taking a training course teaches you skills. Practicing those skills regularly is what makes you proficient. Your training instructor will be able to provide you with, or direct you to, the resources you need to practice effectively.
Practice with demo training guns, they are exact replicas of real handguns, providing you with hands-on training that transfers directly to your carry weapon. Their realistic construction allows you to practice accessing and drawing from the same holster you carry every day to develop a smoother and more consistent draw and grip.
You can also become familiar with drawing from different holster styles without using a real weapon. These solid-plastic reproductions provide real-world training without posing a safety risk to you or anyone around you. In addition to refining your skills, they're a great way to teach proper handling and safety techniques to others in a safe, controlled environment.
Watch Gun Drawing Tips: Safe & Fast
---
Choosing a handgun that's right for you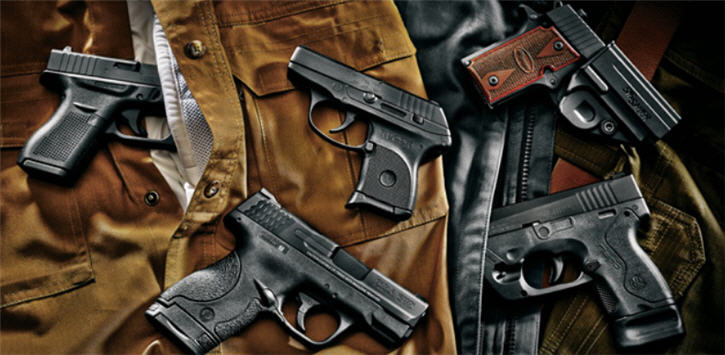 Personal factors such as body type, carry method, wardrobe and lifestyle will help determine the handgun that's right for you. And with a large selection and knowledgeable staff, your local Cabela's store is the perfect place to purchase a concealed-carry handgun.
---
Concealed Holster Option Designs to Fit Your Lifestyle
  Your wardrobe, situation and personal preference are factors that help determine the right gun holster to wear. With our large selection of holsters, you'll be able to find the perfect balance of concealment, accessibility and comfort to fit your lifestyle.
Basic Handgun Holster Types to Consider
Inside the Waistband (IWB)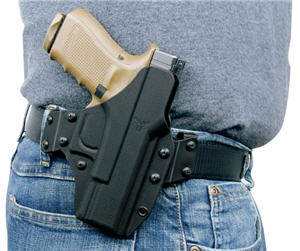 Belt holsters worn on the inside of your pants. Your handgun's grip is typically the only part above the waistband, and can be concealed by a proper-length shirt or jacket.
Outside the Waistband (OWB)
Belt holsters worn on the outside of your pants. They rely solely on outer garments, such as shirts and jackets, for concealment.
Paddle Holsters
Similar to OWB holsters, but are secured by a paddle that sits inside the waistband rather than attaching directly to your belt.
Shoulder Holsters
A harness suspends your handgun under the shoulder of your support arm. Because your handgun is located beside your torso, shoulder holsters are easily accessible while sitting down. Many shoulder holsters have extra magazine storage underneath your strong-side shoulder.
Ankle Holsters
Ankle holsters provide access to a firearm while sitting down or lying on your back, where drawing from the hip can be difficult.
Pocket Holsters
Can be carried in appropriately sized jacket, shirt, pants or purse pockets. They work with a wide variety of wardrobe styles.
Tip: Shop gun holsters at https://www.cabelas.com/shop/en/holsters
Handbag Holsters
Conceal a handgun no matter what type of clothing you're wearing. Many have compartments for your handgun and holster that provide safe storage and convenient access.
Retention Holster System
Retention systems are designed to keep your handgun securely holstered until you draw. A common method of retention is a thumb-break strap that runs over the back of your handgun's slide or hammer. When drawing, your thumb will dislodge the strap as you grip your handgun. Other styles of retention are available. Whatever type of holster you wear, practice is key to developing a smooth, consistent draw.
---