The northern pike seems to have it all. The ability to leap in the air with energetic somersaults that will amaze and excite you. A willingness to strike baits so aggressively that you'd swear your heart skipped a beat. Plus a biological make-up that allows them to attain extra heavy weights, backed by a muscular body and razor-sharp teeth. Put all of these traits together and you're up against one heck of a competitor! Fall is the time to catch the really fat 20 pound pike.


A problem you can face when looking for sure-fire action from Mr. Pike is deciding what fishing lures to toss his way. It may seem easy when rooting through the tackle box, but northern pikes can be picky at times, so arming yourself with the right lures for the right conditions is paramount for uncovering success. Take a look at the following pike baits the next time you go tackle shopping — you've got my word that they will all work to your advantage when out in pike territory.


Fishing Spoons and Pike Just Work
Metal fishing spoons and pike have quite the history together. A look back through the annals of fishing will show you that spoons were an angler's favorite tool way back when. For present-day pike hunting, the lowly spoon still rates number one in terms of catch-rates and overall usage, making this a must-have fishing lure for the tackle box.


Spoons come in all different shapes and sizes, causing some confusion when admiring the tackle store shelves. For the most part, a basic pike spoon should fall between 4 and 6 inches long. The heavier the spoon chosen, the deeper and quicker it will run. My preference is one to 1 1/2 ounce baits, as this will allow easy casting and proficient action on the retrieve. (Heavier spoons will also make for better trolling, as your lure will get down to the desired depth quickly and easily.)


Although size and weight are important considerations, the bend or curvature of the spoon itself is what truly reels the fish in. The bend of a spoon gives the bait its action, from a fine swaying motion to an over-exaggerated wobble, as well as everything in between. It is this action that produces vibrations through the water — one of the biggest attractants for northern pike. Bigger bends will produce greater action as well as more sound. Over the years, I've figured out that this set up seems to work best.


You can't go wrong with silver like the popular Johnson Lures Silver Minnow or gold spoons, baitfish-imitating shades are also productive. Lastly, don't overlook the success that the highly popularized "red and white" hue has garnered — it definitely works for a reason.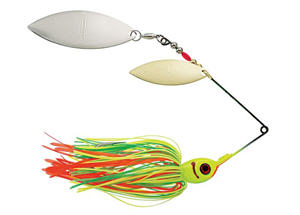 When it comes to color of spinnerbaits, bright is the way to go.
Spinnerbaits
Primarily thought of as a bass lure, spinnerbaits have taken the pike world by storm. The ease of use, virtual weedlessness, plus the high flash and vibration make this bait a winner any way you look at it. 


Although "bass-size" spinnerbaits will certainly catch northerns, hooking bigger fish will mean a change to a slightly larger lure like the Booyah Pikee Spinnerbait. By this I mean a longer and thicker skirt, bigger blades, and an oversized hook. Many tackle companies have jumped on the bandwagon, and are manufacturing spinnerbaits that are specifically designed with these qualities intact, primarily for use with toothy predators.


My favorite fishing spinnerbait to run when targeting the water wolf consists of large willow leaf blades, like the Bass Pro Shops Lazer Eye Spinnerbait Double Willow. These big blades throw off a lot of flash and will call fish in from afar. Skirts made from bucktail or living rubber work equally well, although I prefer the bucktail material when water temperatures are not at their peak.


Make sure the skirt is bulky enough, as this will offer a large target and silhouette for fish to hone in on. (Adding a plastic curly-tail grub to the hook will offer greater bulk and increased action.) Hooks should be razor sharp, and it certainly doesn't hurt to install a trailer hook to help in landing those short-striking fish. 


When it comes to color, bright is certainly the way to go. Yellow, chartreuse, white and orange will all work well for the skirt, while silver, orange and chartreuse lead the way for the blades.


Soft Plastic Jerkbaits
Many anglers have used this fishing bait for bass, with astonishing results to show for it. If truth were known, they are a dynamite lure for pike, especially when you find the fish in a non-active or lazy mood.


Plastic jerkbaits are long and semi-cylindrical in shape, usually consisting of a narrow or thinner tail section. An offset worm hook in a size 4/0 or 5/0 is all that is needed to complete the package.


A jerkbait works well due to the fact that it sinks slowly and tantalizingly through the water, a triggering effect that fish find hard to pass up. This slow and enticing movement is perfect for fish that are holding tight to cover, or for those that seem to be suffering from a sudden case of lockjaw.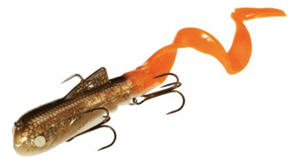 Best bets to try are plastic jerks that fall between 6- to 9-inches long like the Sebile Magic Swimmer Soft. These will work well across the map, and will help in seducing those fish that seem hard to come by. (These baits are a mainstay of mine when faced with cold front conditions, or early in the spring when the water is still cold.)



Tip: Check out Musky Innovations Bull Dawg pike baits at Cabelas.com here

Bright colors are again your best bet, not only from the fish's point of view, but also the anglers. Using a brightly colored bait will allow you to see your lure as you work it in, which can help greatly in spotting follows and setting the hook. Try white, hot pink, and yellow for outstanding results.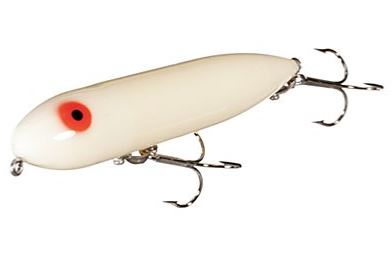 There is nothing like watching a large pike strike a topwater lure like this tried and ture Heddon Zara Spook bait.
Topwaters
Nothing can compare to having a fish come crashing down on a bait when it's on the surface. In terms of excitement, this tactic rates number one. Lucky for us, Mr. Pike loves to tangle with lures on top, making this technique both a productive one, and a fun one to boot.


Topwater baits come in many different versions, but for the sake of pike, speed and action seem to be the two triggering devices. And when I say speed, I mean fast!


Large buzzbaits are ideal for pike fishing as they can be burned back to the boat at a high rate of speed, as well as throwing off a sputtering wake as they whip across the surface. Look for baits that have large buzzers (double and triple buzzers have worked well for me) as well as a large skirt. A trailer hook is a definite necessity in this high-paced game.


Another bait that I like to keep in my bag of tricks is a cigar-style lure, or Spook like the Heddon Zara Spook bait. This topwater requires direct manipulation from the angler in order to perform, with heart-pounding results forthcoming when the technique is done just right. Go with the largest cigar-bait you can find, and practice the cadence (walk the dog) until you have it just right. And when you do, watch out, because the big fish are sure to be close behind! This bait will be worked much slower than a buzzbait, so it is ideal for neutral or "picky" fish. Saying that, it also works wonders on wound-up fish too.


As with the plastic jerk, color is more for the angler than for the fish. Choose a shade that will be visible from afar, as seeing the lure and the action it is creating is key to gaining confidence in this one.


Jerkbaits for Pike Are the Way to Go

Northern pike are built for chasing down prey. With a quick burst of speed and their razor-sharp teeth, baitfish in the vicinity really don't stand a chance. Since fish are their prime source of nourishment, it's no wonder that crankbaits (an exact replica of nature) will fool most anything that swims.


When selecting crankbaits for pike fishing, jerkbaits in the 4- to 5-inch range like the Smithwick Suspending Super Rogue hard bait or the Rapala X-Rap's are the way to go. These "stop and go" lures mimic the action of a wounded baitfish to a "T," allowing the carnivorous pike ample opportunity to move in for the kill. 



Tip: Look for a flashy jerkbait when selecting your next pike lure.Look for a flashy jerkbait when selecting your next pike lure.


Selecting the appropriate jerkbait doesn't have to be a tedious task. Long and thin are the two considerations, as this duplicates the favored prey for pike. Choose a bait that is 6- to -9 inches in length, with a short to medium-sized lip. Jerkbaits are meant to be worked in water less than 20 feet deep, so try to choose a few styles of lures that will cover the water from top to bottom. (My most consistent producer is a lure that can be jerked down approximately 6 feet, a prime depth in many of the waters I tackle.)


Flashy is a positive trait that you should search for when selecting your lures, with natural colors and some bright ones a great mix to have. Silver, gold and chartreuse lead the pack here, although experimentation is always a good rule of thumb when out on your home lake.


Rattles are a great addition to your jerkbaits for the sound that they produce. If it doesn't make noise, my suggestion is to leave it on the shelf.


Hunting down northern pike can be an exciting and addictive venture for the fisherman. These fish like to play rough, and tempting and teasing them into striking can be an exhilarating aspect that will leave you wanting more. Stocking up your box with the above baits can lead you on a path to success — one filled with acrobatic jumps, hard pulls and splashes of water in the face.