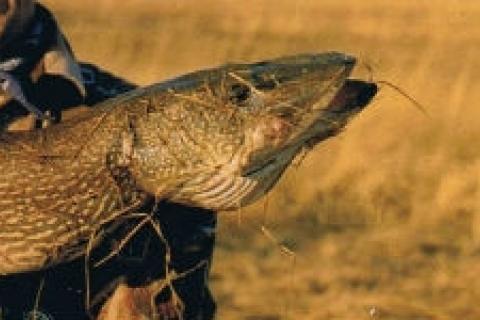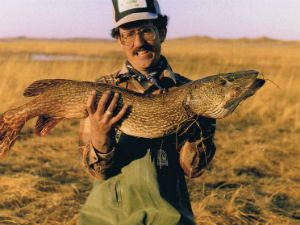 I'm sure that there are fish that are more fun to catch than Northern Pike; I just haven't found them yet. Pike are psycho fighters. I love catching them. I used to fish for them a lot in Nebraska.
I remember when Calamus Reservoir opened up, they dammed up the Calamus River and flooded a lot of ponds so there was a lot of fish in it right away.
As it was filling it would flood up in the grass and the fish would be feeding right on the edge of the grass. We'd wade out chest deep and throw weedless Dardevle's right up against the edge of the grass. They'd miss and you'd work another one for a minute. It was there that I learned to tie on a white spinnerbait if I missed one and throw it back right away and they'd nearly always hit it.
Then when when I got married, Katy's dad took the family to Canada fishing. He'd troll with big Cisco Kids. With seven kids he had to troll or it'd have been mass chaos. I'd never trolled for them until then, but it is effective. I've since caught quite a few trolling with Rattlin' Traps.
My absolute, most favorite lure though is a buzzbait. Once as I was taking my buddy Mike Trautner back to camp, there was a 40-yard weed bed not far from the truck. I tied on a buzzbait and hit the front of it and started reeling. He said, "What the heck is that thing? It looks like a trash can lid flapping." I had the Minn Kota trolling motor going and before I got by the weed bed I'd netted three. He turned around and said, "Give me one!"
The wind totally died down and we went up by the cat tails and I don't have a clue how many we hung. It takes patience to throw in a buzzbait, and it looks like a bath tub under water is swimming towards it. You just have to keep reeling at a normal pace.
What will really freak you out though is when one follows the lure up to the boat and slams it. Or better yet, lies under the boat and then on the next cast drills you right when your lure gets to the boat.
One year my dad had died and mom gave me a handmade rod that I'd given him. A month later I took it fishing.
I reeled up to the boat and 6 inches from the end of the rod and a northern jumped out from under the boat and drilled me. I hit the release on my baitcaster right fast so he wouldn't snap my rod, and as you can imagine, major back lash. I got it untangled only to discover that he was still hooked. I reeled in a 30-inch northern.
Good Lures for Northern Pike
Dardevle's — Red and white is an all-time classic.
Pig and jig — Katy does well with these.
Buzzbaits
White spinnerbaits
Rattlin' Traps
Yellow STORM Hot 'N Tots