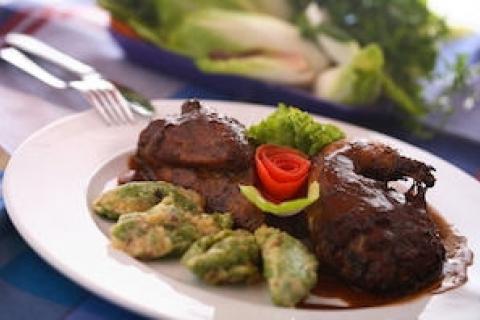 Hunting for pheasant is not only an exhilarating experience that provides hunters with an exciting yet peaceful time in the outdoors and the potential for beautiful trophies, but it is also the opportunity for hunters to put an incredible meal on the family dinner table.


Pheasant meat is unique in its wild taste and low fat content; thus, it should be minimally seasoned by those who want to experience its full flavor, as well as carefully cooked so as not to dry out the meat. In addition, those preparing pheasant should note that although the bird does have its own unique taste, the poultry would not be out of place when substituted for chicken in most chicken dishes.


Ready to prepare your own pheasant-focused meal? Get inspired in the kitchen by browsing our roundup of five pheasant recipes – for both casual and more formal occasions  – below.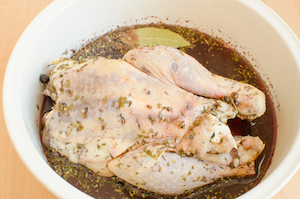 Slow-Turned Pheasant  
(via Bass Pro Shops 1Source)
Ingredients:
1 pheasant  

1-1/2 cups white wine  

3 tablespoons soy sauce  

3 tablespoons vegetable oil  

2 cloves garlic, minced  
Instructions:
Combine wine, soy sauce, oil and garlic. Pour over pheasant in a large zip-seal bag. Press air from the bag and seal. Marinate in the refrigerator 8 hours, turning often. Remove the bird from the marinade, and secure the wings and legs to the body with cotton cord. Skewer with a rotisserie spit, and turn over a medium fire for 2 hours or until done to taste.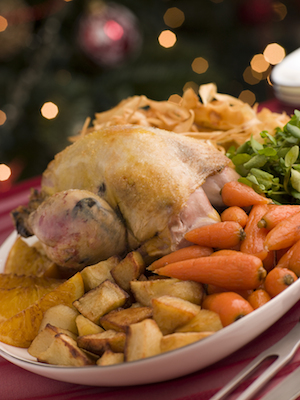 Roast Pheasant Supreme
(via nsw.gov.au)
Ingredients:
2 pheasants

1 apple

6 tablespoons butter

2 tablespoons chopped onion

2 tablespoons oil

juice of ½ lemon

salt and pepper

strips of bacon

¼ cup red or white wine

¼ cup chicken stock
Instructions:
Grate the apple and mix with softened butter, lemon juice, onion, oil, pepper and salt. Place stuffing inside the body cavity; salt and pepper the birds. Cover the birds with the strips of bacon and place in a casserole dish. Add wine and chicken stock and cook in an oven at 355°F for 1–1½ hours, or until tender. In the drippings, prepare a gravy using a little additional chicken stock. Serve on a bed of rice garnished with parsley or serve just with potato crisps.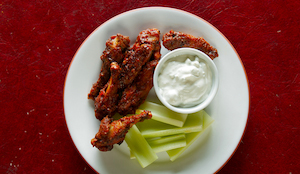 Pheasant Buffalo Wings
(via honest-food.net)
Ingredients:
2 pounds pheasant wings, separated into sections

1 quart chicken stock

1/3 cup hot sauce (I use Tabasco's Buffalo Sauce, but Frank's is traditional)

1 tablespoon mild paprika

4 tablespoons unsalted butter, melted

1/2 teaspoon salt

1 teaspoon Chinese chili bean paste (optional)
Instructions:
In a Dutch oven or covered pot, submerge the pheasant wings in the stock; add water if need be to cover. Bring to a simmer and cook for 90 minutes and up to 2 hours – you want the wings to be very tender. Remove the wings and save the stock for another use.

Pour the hot sauce, paprika, melted butter, salt and chile paste into a container and mix well. Add the wings, toss well to coat and marinate them for at least an hour, and as long as overnight.

Preheat oven to 375°F. Place the wings on a baking sheet or two in a single layer and bake until they are crispy, 30 to 45 minutes.

While the wings are cooking, pour the marinade into a small pot and bring to a boil, then drop the heat to low. Keep warm, and when the wings are done, toss them with the sauce before serving. Serve with your favorite blue cheese sauce, celery and lots of beer.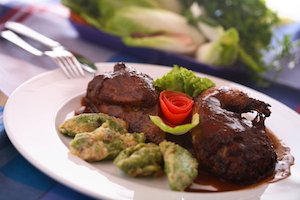 Glazed Pheasant
(Bass Pro Shops' user-submitted recipe from Samuel Miller)
Ingredients:
1 pheasant (cubed)

1/2 cup orange marmalade

1/4 cup apple jelly

1/4 teaspoon thyme

1/4 teaspoon tarragon

1/4 teaspoon garlic powder

Dash salt and pepper

1/2 cup diced onion

1/4 cup diced bell pepper

4 servings white rice

1 can chili beans
Instructions:
Mix marmalade, jelly and spices in a covered bowl, and add bird cubes.

Marinade in refrigerator for about an hour.

While marinating, prepare white rice and chili beans (separately).

Remove meat from marinade and place in a large skillet on medium-high heat.

Reduce until all liquid is gone and the meat is caramelized.

Place rice on plate, add beans then meat.

Garnish with onion and bell pepper.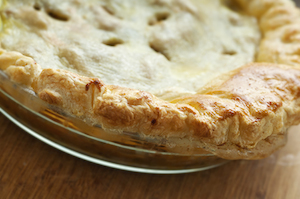 Pheasant Pot Pie
(via ultimatepheasanthunting.com)
Ingredients:
2 pheasants

4 cups water

1 medium onion, quartered

1 celery rib, quartered

1 garlic clove, minced

2 tablespoons lemon juice

1 1/4 teaspoons salt

1/2 teaspoon pepper

1/4 teaspoon Worchestershire sauce

1/8 teaspoon ground nutmeg

3/4 cup all-purpose flour

1 jar whole onions, drained

1 package (10 ounces) frozen peas

1-1/2 cups sliced carrots

1 jar (2 ounces) sliced pimentos, drained

Pastry for a single-crust pie
Directions:
In a large saucepan or Dutch oven, place pheasants, water, quartered onion, celery and garlic; bring to a boil. Reduce heat; cover and simmer for 60 minutes or until tender. Remove meat, cool. Debone and set aside. Strain broth, discarding vegetables. Measure 3 1/2 cups broth and place in a saucepan. Add lemon juice, salt, pepper, Worcestershire sauce and nutmeg. Remove 1/2 cup and stir in flour. Bring broth in saucepan to a boil. Add flour mixture; boil 1 minute or until thickened and bubbly. Add the whole onions, peas, carrots, pimentos, and pheasant; mix well. Spoon into a 2 1/2 quart baking dish. Roll pastry to fit dish; place over meat mixture and seal edges to dish. Cut small steam vents in crust. Bake at 425°F for 35-40 minutes or until golden brown.


Check out more recipes on Basspro1Source.com! Enjoy your meal!


And for those of you who'd like to try preparing pheasant but are in need of a bird, Bass Pro Shops can help with that, too! Order our Pheasant, Quail and Wild Rice to have an entire ready-to-prepare pheasant meal delivered right to your front door.


For more great stories on the outdoors, please visit the Bass Pro Shops 1Source blog.