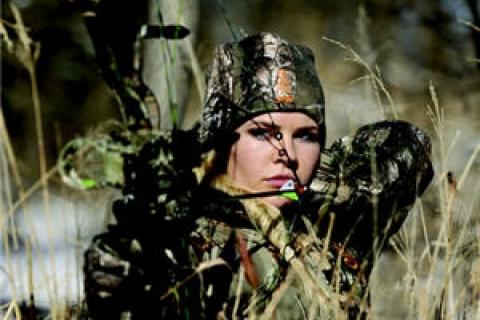 If you were writing a novel, you'd be hard pressed to create a more Renaissancey type character than the very real Sgt. Theresa Vail. A member of the SHE Outdoor pro staff and host of a new outdoor TV show, Vail possesses skill sets that seem almost superhero like:


Mechanic for the Kansas Army National Guard
Dental technician
Expert marksman with the M16 A2 rifle
Speaks Chinese
Avid bowhunter



Tip: Shop Women's Hunting Clothes & Camo including SHE Outdoor at Bass Pro Shops here.

She is also the former Miss Kansas and wowed the world in the 2014 Miss America pageant with her Serenity Prayer tattoo and desire to showcase her archery skills in the talent portion of the competition (though pageant officials frowned on that).


How does one woman accomplish all that by age 23?


Vail credits a couple of different things. First, her faith and the power of prayer have been the dominant guideposts in her life. Another life-shaping force is her service to our country in the Army National Guard while her family is a source of inspiration for her, too. With nine brothers and sisters, Vail said it could have been easy to get lost in the crowd. However, her dad, recently retired Col. Mark Vail, took 10-year-old Theresa hunting when he was stationed in Germany. That bonding time ignited her passion for hunting and helped her overcome being bullied in school. She's has run wide open ever since. 


Now that her reign as Miss Kansas is officially over, Vail looks forward to applying her mad skills and energy to the outdoor industry. Vail's Miss America platform, "Empowering Women: Overcoming Stereotypes and Breaking Barriers," is a message she wants to carry forward as a member of the SHE Outdoor pro team.


"While I consider myself a tomboy, I think you can have the best of both worlds: dress up, do your hair, and be feminine but then go to the woods and not shower for a week. Women are ready to let go of the stereotypes that hold them back from enjoying themselves."


With the proliferation of pink hunting gear and apparel in recent years, there's been a ton of talk within the women's hunting community about stereotypes. While Vail is not a fan of pink hunting gear herself, she does acknowledge that it has its place.


"I don't want to make an issue of pink because if it gets a women involved in the outdoors that otherwise wouldn't feel welcome, that's great. The important thing is that we have options and can do what we want to do. As women hunters, we should support each other's choices rather than judge them."


Vail's next adventure has her trading in her fashion-forward Miss Kansas wardrobe for SHE Outdoor hunting apparel to host a new Outdoor Channel reality show. The show, aptly named "Limitless with Theresa Vail," will debut in July 2015 and will feature her tackling new challenges such as hunting elk and bear. Vail said while viewers will see her struggle, what they won't see her do is give up. As if. With the moxie Vail shows, it makes you wonder what she'll do in the next 23 years!