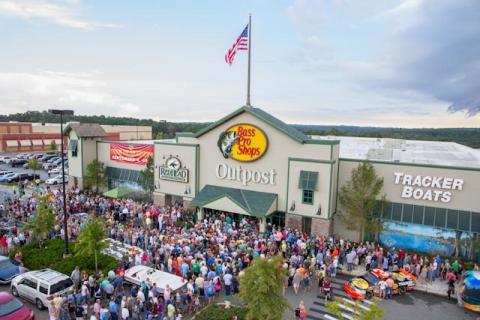 As I surveyed the crowd outside of the Bass Pro Shops Tallahassee Outpost during its grand opening/ribbon-cutting ceremony earlier this month, I was reminded of the telephone-booth stuffing craze that swept the nation in the early 1960s. For no particular reason that anyone could think of, college students in the U.S., England and Canada vied to see who could fit the most people in a telephone booth. At 54,762 -square feet, the Tallahassee Outpost is certainly no telephone booth. Plus, the thousands of people who gathered in the parking lot had a darn good reason for wanting to get inside that store. They came to shop. And they were looking for everything from fishing lures to firearms, binoculars to boats, tents to treestands and everything in between.
Evening for Conservation
More than just a ribbon-cutting ceremony, Wednesday, Sept. 4 also marked the Tallahassee Outpost's Evening for Conservation. This special event is a prime example of why Bass Pro Shops leads the way in corporate support of conservation. Bass Pro Shops' founder Johnny Morris knew people would have a great time at a grand opening if you included live music, the King of Bucks trailer, giveaways, celebrities and a store that people couldn't wait to get into. He also knew that if he found a way to give back to the outdoor pursuits we all love, it would be a grand slam homerun. The Evening for Conservation is just that.
During that special event, for every dollar spent, 50 cents was donated to the Wildlife Foundation of Florida, an organization that works closely with the Florida Fish and Wildlife Conservation Commission. Their mission is to ensure the preservation and protection of Florida's fish and wildlife resources.
Other important ingredients of an Evening for Conservation are the conservation groups and state and federal agencies who participate. They're invited to set up education booths and displays and sell food and refreshments to raise money for their important conservation efforts. In Tallahassee, Bass Pro Shops was proud to include the National Wild Turkey Federation, National Rifle Association, Quality Deer Management, Ducks Unlimited, Florida Fish and Wildlife Conservation Commission, and the U.S. Fish and Wildlife Service.
The most important parts of this recipe, though, are the people. Before the doors even opened in Tallahassee, thousands of folks gathered to hear a few words from America's favorite fisherman Jimmy Houston as well as Tony Stewart, the driver of the No. 14 Bass Pro Shops Chevrolet in the NASCAR Sprint Cup Series. They also witnessed Johnny Morris and Florida Governor Rick Scott cut the ribbon that opened the store. Once inside, not only did customers get to shop, they also got autographs from:
•  Brittany Oldehoff - Newly Crowned Miss Florida USA 2014
•  George Poveromo - Host of "George Poveromo's World of Saltwater Fishing" TV show
•  Peter Miller – Host of "Bass 2 Billfish with Peter Miller"
•  Larysa Switlyk – Host of Larysa Unleashed
•  John Paul Morris - RedHead Pro Hunting Team member
•  Jimmy Houston – Host of Jimmy Houston Outdoors TV
•  Ryan Klesko - Former Atlanta Braves first baseman and host of "Hardcore Hunting TV"
•  Tony Stewart - NASCAR Sprint Cup series driver of the No. 14 Bass Pro Shops Chevrolet
By the end of the evening, more than 10,000 people visited Bass Pro Shops' Tallahassee Outpost and about 86,000 visited the store throughout the grand opening weekend, which was held Sept. 5-8. During the grand opening event, customers were treated to giveaways, great prices and an experience that felt like a trip to a museum, art gallery, antique store and conservation center all rolled up into one. The Tallahassee Outposts' hand-painted murals and more than a thousand local artifacts, antiques, pictures, mounts and memorabilia turn the store into an amazing tribute to North Florida's outdoor legacy.
If you're feeling like you missed something pretty neat, don't despair. There are five more Bass Pro Shops store openings in 2013. On Oct. 9, we'll celebrate a new store in Utica, N.Y., with a ribbon cutting and Evening for Conservation festivities while the rest of the weekend will be a grand opening celebration. We'll do it all over again Oct. 23 in Port St. Lucie, Fla. Later this year, you'll also find us opening new Bass Pro Shops stores in Little Rock, Ark., Colorado Springs, Colo., and Palm Bay, Fla. Come and join us! Visit this link to find your Bass Pro Shops' store.