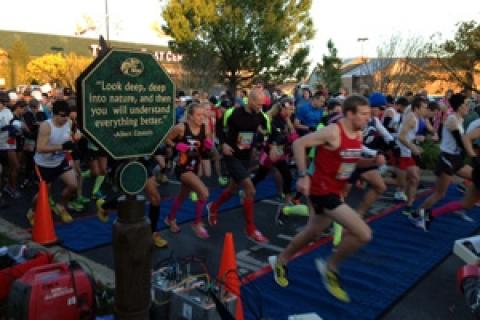 Bass Pro Shops Conservation Marathon – Big fun for serious runners and tutu-wearing joggers
Normally, we would be concerned about people running AWAY from a Bass Pro Shops store. But this weekend, we couldn't have been more pleased when 4,500 people sprinted from the starting line of the Bass Pro Shops Conservation Marathon, located at our flagship superstore in Springfield, Mo.
This is what it looks like when a group of people get together to run with joy, the theme of this year's races.
The Bass Pro Shops Conservation Marathon is a series of annual events that were held this year on Nov. 2-3. The weekend featured something for every fitness goal, ranging from a two-mile camo fun run and a 5K to full and half marathons.
Race participants hailed from 39 states as well as the United Kingdom and Argentina. A woman from the borough of Manhattan said her husband could have run in the New York City Marathon that same day. But instead, they chose to head down to the Ozarks for the Conservation Marathon. She said they had a great time on their first trip to Missouri and found the people to be friendly and the weather beautiful. Participants in all the races covered more than 42 miles of Springfield's beautiful trails, picturesque neighborhoods and historic Route 66.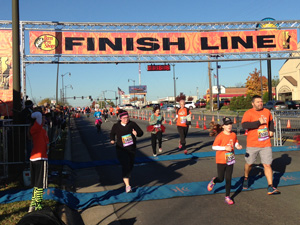 Not only did folks come from all over for Bass Pro Shops Conservation Marathon, race participants ranged in age from 5 to 82. Some were dressed in serious race garb. Others sported colorful tutus, Duck Dynasty beards, rainbow-colored hair and super-sized sunglasses. T-shirts identified the various groups, with one of my favorites being the day-glo orange "Girls on the Run" shirts.
One thing everyone had in common, though, was the sheer jubilation at crossing the finish line. Some came in together, hands clasped and held high. Moms and dads hugged their kids and told them they were proud. Friends high-fived each other and triumphant runners pumped their fists. Those who struggled the last 100 yards were cheered on by spectators. And the Springfield area volunteers (more than a thousand in all) handed out water, gave aid when needed and made the race run as smooth as spandex. It was a beautiful thing all the way around.
The Bass Pro Shops Marathon Weekend was the grand finale of the Bass Pro Shops Outdoor Fitness Festival. The mission of the Outdoor Fitness Festival is to celebrate health and wellness, outdoor adventure and wildlife conservation in the beauty of the Ozarks. The programs are designed to include activities for people of all ages, backgrounds, fitness levels and areas of interest. Proceeds from these events are shared by Big Brothers Big Sisters, the Ozark Greenways, and Wonders of Wildlife.
Bass Pro Shops Conservation Marathon Weekend participants chose from the following races:
Bass Pro Shops Conservation Marathon
Cohick Half Marathon
Mercy Marathon Relay
News-Leader 5K
Camo Run