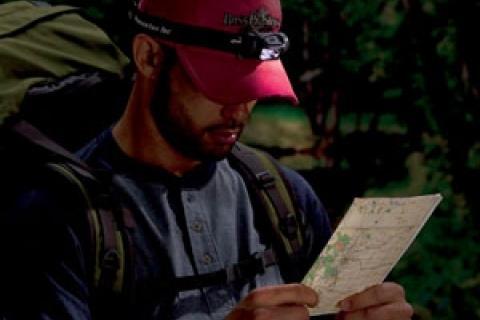 Headlamps are basically flashlights that provide the convenience of hands-free operation. Strapped on the head or clipped on a hat brim, they are excellent to use when performing tasks such as driving tent stakes in the dark, following a trail to your deer stand before dawn, reading a book in your sleeping bag or tying knots when night fishing.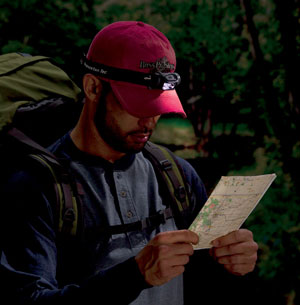 The ability to keep both hands free while directing light with your head also has real advantages when facing an unexpected challenge such as a nighttime medical emergency, a power outage, a broken-down vehicle or getting caught in the backcountry after dark while hunting.


Carbide headlamps, which burn acetylene produced from calcium carbide, were developed in 1900. They were very popular with miners, hunters, spelunkers and others, and continued to be widely used even as electric lamps appeared because of the poor battery life of the latter models. Later development of better bulbs and batteries made electric headlamps much more popular. Today's outdoor recreationists have so many models from which to choose, they may need assistance in understanding the differences between products to determine what best suits their needs.


Consider the Brightness

A headlamp's brightness is an important measure of its usefulness for different tasks. For example, a light that's not very bright may work fine for reading or finding your way through your house during a power outage, but when using a headlamp for locating trail markers or tracking a wounded game animal at night, a much brighter light may be needed. Fortunately, many headlamps now come with multiple settings, including a floodlight mode that casts a wide beam at one or more dim settings and a spotlight mode with a focused bright beam for long-distance viewing. The best have both and will shine the distance of a football field or farther.


The amount of light a headlamp projects is usually measured in "lumens." The more lumens, the brighter the light. The Cyclops Micro Hat Clip Light, for example, produces just 9 lumens of light, while the Streamlight ProTac HL LED Headlamp produces up to 540 lumens. Determining this measurement can help you pick the light that's best for you.


Why Colored LED Lights?
For hunting, star gazing and some other activities, you may find it useful to have a headlamp with some colored LEDs. Many models have red LEDS, which provide longer battery run-times. These are especially useful in search-and-rescue scenarios because a flashing red LED can be seen at a great distance, yet will last the longest. Red LEDs also preserve night vision and won't spook animals like raccoons that often are hunted at night. Green and blue LEDs often are available as well, especially on headlamps made for hunting. Blue is said to be effective for examining blood trails left by wounded animals.



Look for Battery Run-Time Figures

Most headlamps operate on either AAA or AA alkaline batteries, but a few, like the LED-Lenser H7R, have the added benefit of being rechargeable. To know how long your light will run at different settings, check the battery run-time figures give with most descriptions.


Don't Forget About Weight
One characteristic very pertinent to headlamps is weight. Models range in size from less than 1 ounce to almost 12 ounces, and while those differences may seem insignificant, they can greatly affect comfort for some people when a headlamp is worn for long periods. Small-statured individuals may want to use lighter models that won't fatigue neck and shoulder muscles. But remember, smaller, lighter models, such as most hat-clip headlamps, also tend to have fewer features and produce less light.


Water Resistance Important?
Tip: Red LED lights provide longer battery run-times.
You might notice that some headlamps have an IPX rating. This gives you some idea of a light's water resistance. A rating of IPX4, for example, means the headlamp is able to withstand water splashing against the housing from any direction. A headlamp with this rating would have sufficient water resistance for continued operation during a rainstorm. A few high-end lights have an IPX7 rating, which means they are waterproof down to one meter deep.


Other Headlamp Features
It pays to do some in-depth research when shopping so you can take advantage of the marvelous features now available on many headlamps. For example, some, like Petzl's Tikka Plus 2, have a built-in battery charge indicator light that provides a warning when power begins to wane-a handy feature, indeed. The LED-Lenser H4 Headlamp has a handy storage case that allows it to be used as a handheld flashlight. The Princeton Tec Vizz LED Headlamp has a power-saving lock to prevent it from being turned on accidentally. The Petzl NAO Rechargeable Self Adjusting LED Headlamp uses a built-in sensor that detects the ambient lighting and distance of objects in field of view to adjust the width and power of its beam to match the situation.


These aren't your grandfather's headlamps. You can benefit from many other wonderful features as well if you take time to do your homework before you make a purchase.