When you need a super-bright, far-reaching light, a spotlight works best. Navigating a boat at night, viewing wildlife after dark, varmint hunting, frog hunting and emergency signaling are all tasks for which a spotlight is well suited. Before buying a spotlight, however, study these facts that will help you choose a product best suiting your needs.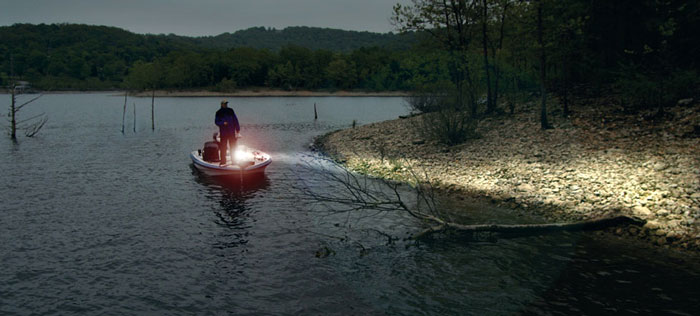 Power Options
Power options are important considerations when selecting a spotlight. Some spotlights, like the Brinkmann Q-Beam Blue Max Spotlight and Bass Pro Shops' 3.5 Million Candlepower 12V Corded Spotlight, work only off 12-volt systems, with a plug adaptor for hookup in a cigarette lighter.


These must be constantly plugged in to work, so they must be used in a boat, truck, RV, ATV or other place where a plug-in is available. The user's mobility is limited by the length of the cord (usually 6 to 10 feet), but the light will come on instantly and shine continuously as the long as it's hooked up to a viable power source.


Rechargeable spotlights also are available. Most, like the Optronics NightBlaster 1 Million Candlepower Rechargeable Marine Spotlight, have both 12V (auto or boat) and 110V (home) chargers. Some, like the Coleman CPX 6 CSP75 Xtreme Spotlight, operate on D-cell batteries or a rechargeable power cartridge (usually sold separately). The user's mobility is unlimited with any of these cordless, handheld models, but run-time varies considerably, from three hours (on high) for some halogen-light models to eight hours for an LED spotlight. If the spotlight loses its charge, you might have to wait several hours during recharging until you can use it again. As a result, these models aren't well suited for extended-use scenarios such as long nighttime boat rides.


Several deck-mount marine spotlights for boating applications also are available, like Optronics BlueEye Beam and the Golight GXL Fixed Mount LED Xtreme Spotlight. One model from Blazer International is made especially for use on an ATV.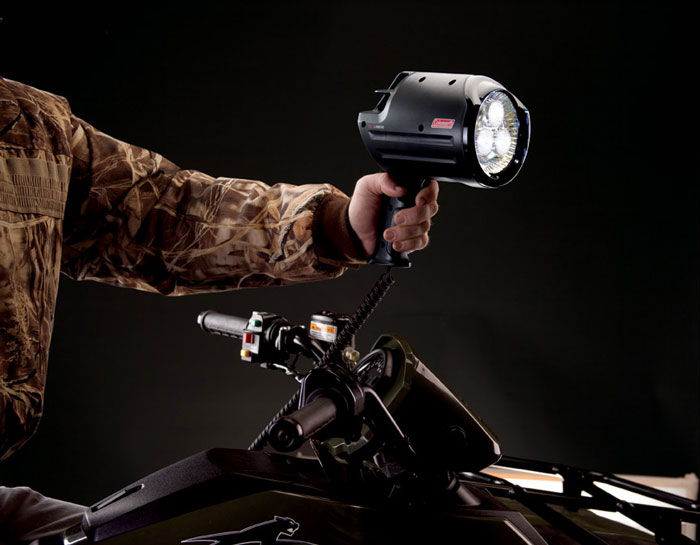 Lumens and Candlepower
Spotlights typically incorporate one of two types of illumination: halogen lights or LED lights.


Halogen models have long been the most popular because they offer the brightest light at moderate prices. Some are so bright they can easily illuminate the eyes of a frog or alligator at distances of a half mile or more. Each is rated in terms of candlepower, varying from 400,000 candlepower on the Optronic BlueEye Beam marine model to 3.5 million candlepower for the Bass Pro Shops 12V Corded Spotlight.


LED spotlights, like the Coleman CPX 6 Folding LED Spotlight, have brightness levels measured in lumens - the more lumens, the brighter the light and the greater the distance at which the light will illuminate objects. LED lights aren't as bright as halogen lights, however, and won't illuminate objects at comparable distances. On the plus side, LED bulbs almost never need replacing, and the lights stay cool to the touch. A halogen light may get hot enough to cause serious burns if touched. Choose accordingly.


Additional Features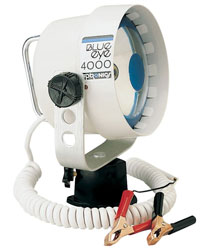 For marine/saltwater applications, the Optronics BlueEye Beam Deck Mount Marine Spotlight is a good choice.
Today's spotlights offer features that make them much more versatile than spotlights available in decades past. For example, several come with red or amber snap-on lenses or red LEDs that provide better night vision and aren't as likely to spook game animals like raccoons. Lockout switches on some models prevent accidental power-ups. Folding handles are available that allow easier storage in a smaller space. The best models also have durable, water-resistant housings that are less likely to chip, break or succumb to an accidental plunge in a lake or stream.


Top-end rechargeable models offer multiple brightness modes. These allow using less light for up-close tasks like blood trailing or camp set-up, thus extending the battery charge considerably.


Trigger locks also are useful features, allowing the light keep shining without constantly applying fatiguing finger pressure to the trigger.


Floating lights with brass and anodized hardware, like Optronics BlueEye Beam Deck Mount Marine Spotlight, are best for marine/saltwater applications.


In the end, you should consider all the pros and cons of each type of spotlight before deciding which is best for you. Fortunately, there are many different models from which to choose, and one of them is sure to be just right for your needs. Make your selection and let there be light!