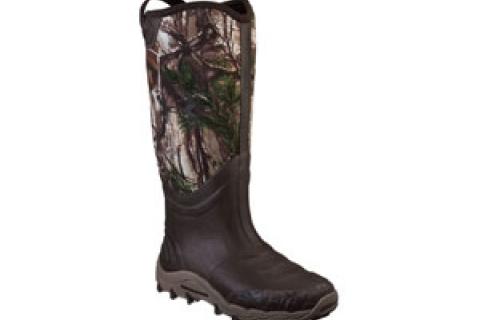 I like a simple, uninsulated, knee-high rubber boot for a lot of the hunting that I do. I've been wearing such a pair for over 10 years now, and while they have served me very well, I recently realized it was getting time to replace them.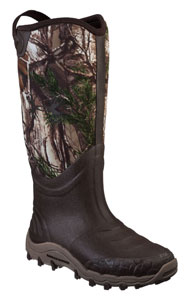 The author likes the Under Armour H.A.W. 16" boots for turkey hunting.
I started looking in stores and online and discovered that a simple rubber boot, of quality construction suitable for hunting, had become difficult to find, particularly without insulation. I realized that I'd probably have to go with a boot that is at least partly constructed of neoprene. After much searching, I purchased a pair of Under Armour H.A.W. 16" Waterproof Hunting Boots for Men. After using them this past turkey season, here are my impressions.


Camo
I wasn't necessarily looking for camo, but the Realtree pattern on these is a nice touch. Another pair of similar boots I looked at had an equally nice camo pattern, but the boots' treads sported bright orange chevrons. That might not seem like a big deal, but when you are hunting sharp-eyed spring gobblers, you are sitting on the ground with your legs often stretched out flat in front of you, with the bottom of your boots pointing right at an approaching bird.


Comfort
Rubber boots aren't typically known for being the most comfortable of footwear, but these boots are surprisingly comfortable, to the point of forgetting you are wearing them.


Cost
At approximately $140, these boots are a good value for quality footwear.


Durability
I can't speak long-term just yet, and neoprene is a bit easier to rip than rubber, but they seem to be built pretty tough. The bottoms, which bear the brunt of abuse, are indeed rubber.


Ease of Use
The pull-strap in the back may seem to be just a nice touch, but I think they are absolutely essential. I'm amazed at how many pull-on rubber boots have absolutely no such assisting feature. If you've ever worked up a sweat struggling to pull on a snug-fitting boot, you know what I mean.


Fit
These boots fit true to size. I also had no trouble removing the insoles and replacing them with my prescription orthotics.


Height
At a height of 16 inches, they come to below my knee, which is perfect for most turkey and bowhunting conditions.


Quietness
Some rubber boots have a tendency to squeak when you walk. These boots are silent, owing at least in part to the neoprene uppers.


Temperature
As I wanted boots primarily for spring turkey hunting and early season deer hunting, I wanted something without insulation. That proved to be a tall order. These boots are uninsulated, but as the uppers are made of neoprene, which is naturally insulating, they are still a bit warmer than I would like. However, they do seem to breathe a bit, and my feet aren't soaking wet at the end of the day, especially with no heavier than medium-weight socks.


Tread
These boots sport an aggressive lug pattern tread for good traction on slippery surfaces, and they seem to be self-cleaning, meaning that they don't hold mud in the treads.


Weight
Weighing approximately 2.5 pounds, these boots are light enough to wear all day without fatigue.

My old rubber boots saw a lot of use and memorable hunting adventures, but I am very impressed with these new H.A.W. (which stands for "hurry up and wait") waterproof boots from Under Armour, and I look forward to many years of new adventures wearing them.
Good hunting.