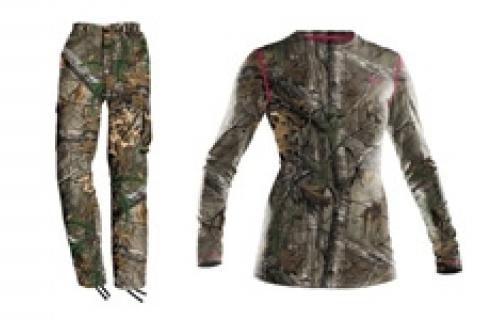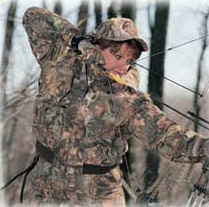 Women's hunting clothing has come a long way over the last two decades. We've gone from virtually no options to a quite large collection of styles and patterns of hunting wear designed specifically for women.


The first hunting garments made for women often focused more on style rather than function. What these clothes boasted in fit, they severely lacked in features. However, over the years, many options and useful features emerged as women's involvement in the sport increased. The industry listened to our requests and took our demands to heart by producing clothing designed for serious hunters and styled for the female form.


Yet, when looking for hunting clothing, many women still ask, "Where do I begin?" Whether you're a seasoned hunter or anticipating your first day in a tree stand, stop and ask yourself a few of the following questions; this will make your hunt for quality clothing less confusing and your day afield more rewarding.


What are You Hunting?
The hunting clothing you look for largely depends on the game you pursue. Consider all the game you might hunt. Will you be after deer, elk, turkey, pheasant, bear or a combination of these animals?


Consider what methods you'll use for each animal. You'll dress differently when bowhunting bear or deer from an elevated treestand than you will shooting ducks from a marshy duck blind.


Camouflage patterns should change to match your surroundings. Perhaps you'll be pursuing mule deer and elk on foot in the fall, but turkeys out of a blind in the spring. A varied pattern of branches and leaves is great for treestands, but you'll require a marsh grass or wetlands pattern while duck hunting.


Use your answers to the following questions as your criteria when it comes time to search for hunting clothes. Do you need clothing that protects your legs when walking through heavy brush and thickets? Do you need clothing that "breathes" as you continually move throughout the day? Or will you spend several hours motionless in a treestand, requiring insulated clothing to retain body heat. You may be surprised to find that some clothing manufacturers incorporate several of the features you desire into one versatile garment.


What Kind of Hunting Will You Do?
Will you be bowhunting, gun hunting or both? Will you hunt with a handgun, crossbow, muzzleloader or shotgun? All these factors need to be considered when choosing your clothing. Bowhunters prefer less bulk in the front of their clothing (snaps and storm flaps may interfere with drawing a bow), more radial arm and shoulder movement for pulling back their bows, and sleeves that fit snug so as not to interfere with bowstrings when released.


Gun hunters, on the other had, need jackets and shirts that don't bind and that allow for a comfortable shoulder mount. Jackets and shirts that incorporate gusseted arm seams are ideal for increased mobility.


Both types of hunters may or may not do a lot of tree climbing. But if you're a treestand hunter, you'll want to be certain your pants don't bind so that they allow for easy climbing in and out of trees. Articulated knees are a great feature that keeps pants from riding up when climbing. Reinforced knees and rear-ends and double-stitched seams are a must — women, like men, are hard on their hunting clothing.


Finally, don't neglect to research the state and county hunting laws and regulations in which you're hunt will take place to find out if blaze orange is required.


Where Will You Hunt?
Geographically speaking, determine where your hunts will take place. Will you be hunting turkeys in the Deep South, deer in the upper Midwest, elk in the mountains of New Mexico or javelina in Arizona? Where you'll be traveling on your hunts is perhaps the foremost factor when determining what gear to purchase. It will determine which fabrics you'll need and what camouflage patterns to consider. Fabric options can range from 100-percent brushed cotton or poly-cotton blends, to fleece, scent control or waterproof finishes.


Do you hunt in the hardwoods or along fencerows beside a cornfield? Maybe you prefer river bottoms or marshes? While the patterns available are as varied as the terrain around the world, women's clothing options still aren't nearly as numerous as the men's. But the camouflage patterns that are available are researched and developed to be used in specific cover -- whether it's the desert southwest, the cornfields of the Midwest or in the northern forest. You need to be smart and choose the pattern that best matches your hunting environment.


When Will You Hunt?
Consider the climate you'll be hunting in and the time of year you'll find yourself outdoors. Some deer hunters enjoy early season, others primarily hunt the rut, and others get out as much as they can the entire season. Turkey hunters in some states have several months to hunt, making for a long season, while other states have hunts lasting only days.


The time of year you'll find yourself in the woods will determine if you need insulated or non-insulated clothing, a single layer or several layers, waterproof or windproof features and brown camouflage or green. Research the geography and weather conditions in your hunting zone to better educate yourself on the type of clothing and camouflage you'll need. Staying warm and dry is key. Regardless of the climate, consider waterproof clothing or waterproof finishes for your outerwear and footwear -- you can't go wrong guaranteeing you'll stay dry in unpredictable weather.


Why Not Purchase Men's Clothing?
Simple answer: the fit.


Men and women are physically different. The average man is approximately 5'10" tall and 190 pounds; the average woman is 5'4" tall, 135 pounds. Because of these differences, there is much more fabric used to make men's clothing than the female's — that's extra fabric we don't need.


Additionally, men's chest and waist sizes are nearly 2 to 3 inches larger than a woman's, while a woman's hips are approximately 2 inches wider than a man's. This all translates into big problems for women who try to fit into men's clothing.


Women hunters want to hunt and be comfortable; they want clothes that fit their female form, clothes that don't bag or sag or interfere with shooting their weapons. We don't want jackets and vests that hit below our waist or hang down to our knees. We don't want to purchase pants that need hemming or to be held onto our bodies by a tightly cinched belt. We want clothes that eliminate bulk where we don't want it, but "give" where we do need it.


Over the years manufacturers of women's hunting wear often sacrificed function for style. Yes, they acknowledged our desire to look good in the field, but they often underestimated our love of hunting and our dedication to the sport by leaving off essential features needed in quality hunting wear. In recent years women's clothing has improved and we're now seeing features included that have been requested for a long time.


When shopping, expect the following "female-specific" features to be advertised on women's clothing. (If not advertised, ask customer service for confirmation of these features.)


Women's Hunting Shirts & Jackets
Shorter length (from shoulder to waist) in jackets and vests;


Gusseted underarms (a triangular insert in the underarm seam for increased mobility)


Tapered waist or mid-section (to accommodate our smaller waistlines, this eliminates bulk you'll encounter when wearing men's "boxy-cut" shirts);


Darted chest (accommodates our bust lines);


Pleated back/shoulder yoke for better arm and shoulder movement;


Extended shirt-tails (stay tucked in better);


Heavy-duty YKK, two-way zippers (not often found in women's clothing, but a great feature to have);


Adjustable Velcro wristbands; and


Zippered insulated liner (a nice option for jackets); adds great versatility in unpredictable weather.


Women's Hunting Pants
Wider fit through the hips;


Smaller waist sizes — adjustable tab or elastic waistband (a great feature for layering);


Hem-to-desired-length option belt loops (yes, women like to wear a belt and carry a knife too!); and


Adjustable Velcro, ties or snap-tabs on pant legs.


Thankfully, women's hunting clothing options are continually increasing, as are the camouflage patterns, and they not only look good, they fulfill our hunting requirements as well. With concerns about baggy, cumbersome clothes eliminated, you can now focus on your hunt. Take advantage of clothing manufactured and designed for women and see for yourself the difference that good fitting clothing can have on your hunt.